With an increasing amount of hedgehogs in your care, what challenges do you face?
Tracy Dunne: "We face challenges in not only assessing and caring for each [hedge]hog's medical needs, but also in the amount of time it takes to clean cages, make up feeds and medicate"
"It currently takes up to 10 hours per day to clean and feed them all"
"We also face huge challenges in trying to raise funds and donations of food"
How can people help?
TD: "People could help by donating items of food such as poultry flavour cat meats in jelly (not gravy), good quality dry cat food or kibble, puppy meat or hedgehog specific foods"
"We are currently getting through 7kg – 9kg of dry food per DAY and 30+ tins of cat meats per week!"
"Donations or cleaning supplies and newspapers are also helpful, as are donations of money towards our vet bills and so on"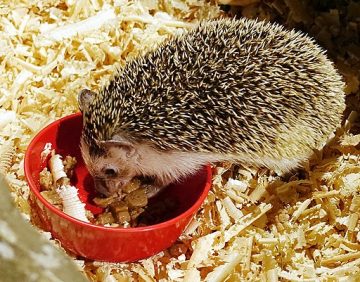 What are the main things people should look out for when encountering a hedgehog that might need help this winter?
TD: "The main thing for people to look out for in winter is small or underweight babies and juvenile [hedge]hogs."
"Any underweight [hedge]hogs will need to come into rescue"
"This will mean they are kept in a warm environment (currently in two of our spare bedrooms!)"
What's one thing you wish people knew about your hard work caring for the hedgehogs?
TD: "Just how precious each and every one of them is to the survival of their species"
"Hedgehog care and rehabilitation is not about making ourselves look important – it is a passion to help this iconic British mammal survive"
Contact details and donations
Phone number: 01202 428129
Email: wildlifeings@gmail.com
Paypal: wildlifeings@gmail.com
Contact them for bank details and more information
Read more: