In a time where referees are at a shortage in the united kingdom currently, maybe it's we talk about the reason this is the case. For years, referees have been verbally abused, some even physically. This is the case in all levels of football, from the Premier league all the way down to grassroots, where parents would insult and berate referees all game.
Officially Human, an organization that promotes the respectful treatment of referees, conducted a survey of over 19 thousand officials in 2019. When they were asked what their reason for quitting would be, 60 percent said verbal abuse from parents/fans. a 2017 survey,  more than 17,000 referees by the National Association of Sports Officials, 39 percent said that parents caused the most problems with sportsmanship with the managers of the grassroots coming in at second at 29 percent. When football was to return after the pandemic had finished, many referees chose not to come back. according to the Daily Mail, the number of referees dropped from 33,000 to 23,000 meaning 10 thousand people chose not to return.
This seems to be a particular issue for England, as research from the University of Portsmouth found that staggering 93% of referees have been abused. This means that over 21,000 referees have had to deal with abuse, something no one deserves to go through. The level of abuse amongst Dutch referees is just over half of that in the UK at 51%.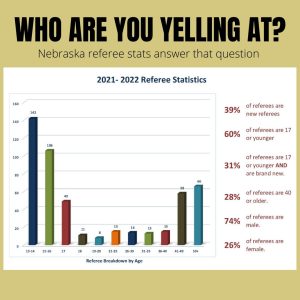 @NRDP_Soccer: Twitter
In Nebraska, USA, the majority of the abuse is aimed at mainly either new or child referees. This highlights why there is a shortage in the first place.