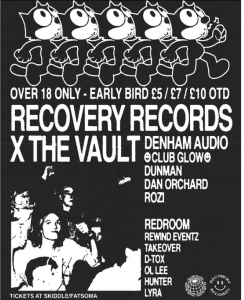 The stores new shop front is located in Go to MarketPlace and is the brainchild of Kane Edwards, who gave his thoughts on Recovery's origins and future, as well as the current state of electronic music in Bournemouth.
Aidan Dunman, local DJ and friend of Kane, was also able to speak on Recovery's ethos and their own ambitions for the year ahead.
The idea for Recovery came about during the pandemic, a time when many in the music industry were put out of work. Having first begun mixing on vinyl, the store was created when Kane started recovering records kept in his loft, eventually moving to a shop in Pokesdown before moving to GTMP. Kane said "It wasn't anymore more or anything less than that, just bringing loads old of records back to life and setting up a shop with it."
Go to MarketPlace, or GTMP is a Vintage Clothing and Sneaker store located in The Arcade in Bournemouth, providing the shop floor for Recovery and streetwear stock for its customers. The shop is ran in part by Sammy, one of Kane's closest friends and collaborators for event nights.
Speaking to Aidan, it becomes clear that Recovery Records has a significance in the scene far greater than that of just a record shop, "Our initial idea behind Recovery Records was to build a hub/community down in bournemouth, which allowed creatives, musicians, DJs and likeminded people into one space, in order to network with other people or build their knowledge of the music we push over at Recovery."
One defining note of Recovery is their selection of breaks, house beats and electronic music as a whole stemming from Kane's original collection. From this, the store attracts a certain audience, resonating with Kane's desire to promote local DJs within the electronic scene here in Bournemouth and those looking to mix on vinyl. The store equally is an outlet for Reggae, Jazz and Hip Hop, engaging not just those who are sourcing music for their decks. Aidan notes "We wanted to incorporate & focus on selling numerous genres of underground dance music from the 90s into todays modern music scene, as well as incorporating newer distribution from a wide variety of dance record labels and also more commercial labels such as universal, Columbia, Sony & more."
Kane previously worked in the events industry and played his part in organising festivals such as Field Maneuvers, one of the unsung heroes of underground house and techno events in the UK, and Boomtown Fair, one of the largest electronic music festivals in the world playing host to up to 75,000 partygoers. Having done his time in the festival industry, he and Recovery now look to Bournemouth for its untapped potential in the music scene.
"This town actually has a lot to answer for when it comes to electronic music. In the 90s, loads of people used to come here because it was one of the only places that would do it. People used to come from all over, that shows you how the demographic was here, there was a massive scene."
Bournemouth, which once was home to venues such as Dusk til Dawn and Empire, where local DJs would feature to promote their own sound, has fallen behind as a centre for electronic music, as outlets for the scene have closed and more mainstream clubs have become the go to. Recovery, by curating the club nights they have so far and with more to come are appealing to onlookers in Bournemouth who otherwise may not feel there are motives or events worth attending.
"I sound a bit chauvinistic saying this, but I feel like Bournemouth's behind as a town… It's met an audience that I feel, it sits well with them, but on the music front, as a promotor, as a music lover and a DJ, I feel that this town does lack and has gone a bit stale."
It's through this loss of culture that Recovery Records looks to revive the town with its own events, promoting both local DJs and lesser known names across the UK in new raves and parties, an aspect Recovery is pushing in the scene. Hosting an event on September 30th, alongside Club Glow label co-founder Denham Audio at the Vault in Bournemouth, Recovery played its role in supporting the local electronic scene with features of local DJs such as Dunman and Dan Orchard.
Aidan said "We decided to introduce a few club nights into the mix mid 2022 to enhance our audience even further, which involved artists, DJs and labels in which we stocked within the shop, as well as other local DJs who we felt weren't getting the recognition they deserved down here."
We always try to think outside the box with our curations when we do our events, whether that be the artwork, DJ picks, illustrations, designs, locations of events etc. we always try to stick to our ethos and try to be different to what other brands are doing down here.
Recovery's upcoming event, the Secret Shopper New Year's Eve party can be seen as the latest example of a push to revive the scene in Bournemouth, as a new venue is opened and once again, local DJs are pushed to the forefront. The new brand 'Secret Shopper' is being run alongside Recovery Records by Kane, Aidan and Sammy, focusing on intimate underground dance music club nights.
"The line-up we've got is just a lot of local DJs and a few guys I know across the UK that are just great DJs and don't get enough recognition really for how good they are… this New Year's event will give us another platform with a new venue, this is what we're hoping to do, the venue that we're using is going to be split into two buildings and hopefully the downstairs space will be opened as a club in 2023."
The potential for a new venue in Bournemouth, outside of those tailored to the student night life and more so towards the discovery of new music and artists, may well be part of the recovery Kane and others are attempting to bring to the electronic music scene in Bournemouth, and a cause for excitement for those looking for new motives and events. "For me, you won't know until you go, you won't find new music, you won't find new artists until you go out your comfort zone… it's only a couple other guys I know in this town that are really pushing to do what they love. Me being one of them, I just want to do what I feel needs to be done."