The Crowdfunder project began at the start of the advent period with a proposed target of £10,000.
The initiative ends this Friday.
The fundraiser will help to provide emergency food to those impacted by the cost of living crisis.
Bournemouth Food Bank said they also hope the donations will support people to move "out of crisis" and into "financial resilience."
Hayley Barrett, 41, is a link worker who works to support people with health conditions and those who need carers.
Ms. Barrett was at the St. Georges Hub of Bournemouth Food Bank this morning collecting bags for a patient.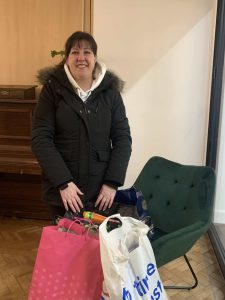 Ms. Barrett said: "What the Food Bank is doing is so important.
"Over the winter I've worked with so many people who really need the extra help, one woman I work with is struggling to pay for electricity and she's got two kids. The cost of living crisis is just not right.
"Even the little things like sanitary products – the things you wouldn't think to donate. They're the things people really need."
Ms.Barrett spoke more about the cost of living crisis, and how she has seen its impact firsthand: "Over the winter I've seen people who haven't got the money to get basic items, let alone pay for electricity.
There's so many more people now who need the service, so the fact that they're getting the donations is so good."
Hear what Ms. Barrett had to say about a woman she's working with below:
The Crowdfunder project ends tomorrow, and donations are accepted here.