The cost-of-living crisis has meant that people are struggling to heat their homes as well as keep on top of other bills.
To help combat this BCP Council has introduced warm hubs, where local residents can keep away from the cold, grab a hot drink and see a friendly face.
Various churches, community spaces and cafes have become a part of the scheme to help others. 
Some sites offer free activities, beverages or refreshments, but all are open as a space to keep warm.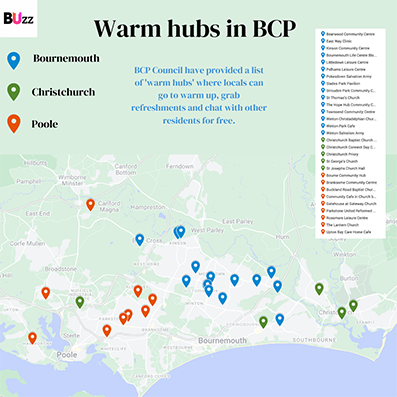 Slades Park Pavilion is one site which is encouraging locals to use their heated space with no obligation to purchase products. 
Isabella Shylock, Pavilion Manager, explained that the organisation does not run on funding but by volunteers. 
"The cafe is run based on volunteers so any money made goes towards the charity, Active Dorset, so that money can be put into the park and the pavilion." 
The community centre offers not just a warm space but also various free activities such as yoga, children's events and knitting groups. 
"We have a whole range of ages, from very young to very old.
"We have a local care home, where family members and carers will come to take them for a walk around the park.
"They'll bring them here to warm up, especially in the winter, for a coffee or for ice cream in the summer."
Isabella expressed the importance of looking after the community and how customers from near and far have become regulars at the cafe.
"Myself and the volunteers are always happy to have a chat. It's a good place to come, there is always someone to talk to here."
Whether you are struggling to heat your home, or just want a friendly face, Slades Park Pavilion is one of many centres welcoming local residents.