High streets up and down the country lose an average of 50 shops a day in a five year high for the UK. Retailers are contending with inflation, rising bills and rent against a backdrop of Covid-19 related economic issues. 
A feasibility study has been taking place in neighbouring area Boscombe with plans to reopen the pedestrianised area to motor vehicles to try and rejuvenate the retail sector. In contrast, Bournemouth town centre has a few thriving and failing independent businesses.
One business struggling with the looming threat of recession is The Go To Market Place, aka. GTMP., in the arcade. Rails of jewel-toned fabrics, vintage posters smattered over the walls and sneakers queuing on shelves create an intimate shopping experience.
'It was £100k just to be able to have and run the business there in the shop. It's just too much at the moment and it's not stable', says owner and founder James King.
Touching on the rent crisis King explained that 'typical' of property owners, the previous location of the shop wanted to charge 'three times the rent' to keep the space long term, a move he described as 'business suicide'. GTMP. then moved to Pokesdown, and over the pandemic said that the business had 'little to no support from the government'. 
'We had our core customer base, but in the end it wasn't enough.'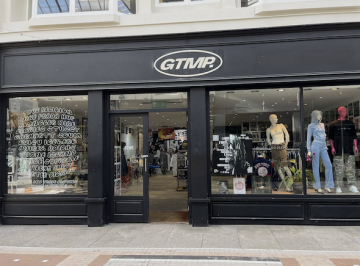 The shop resided where Karen Millen was, the brand that went bankrupt, in the arcade after a string of successful pop-ups. King said the final straw was profit margins, as hand-picking the items internationally and import taxes as a result of Brexit have outpriced their consumers. 
'The electric bill in one of our shops is £2,500 a month, which is astronomical, we can't keep it', and despite having almost 15,000 followers on Instagram, the '£3-4k' a month overheads buckled the business.
'It's a shame the journey has to end in Bournemouth'.
GTMP. still holds a store in Plymouth. The final day of the Bournemouth branch will be Sunday 15th of January 2023.