The sentence will be decided at Salisbury Crown Court today.
Lawangeen Abdulrahimzai was found guilty of murdering Bournemouth DJ Tom Roberts outside a Subway shop in Old Christchurch Road in court on 23rd January 2023.
The incident in March last year saw Mr Abdulrahimzai stab Mr Roberts twice in the early hours of the morning after an argument over an electric scooter between himself and Mr Robert's friend.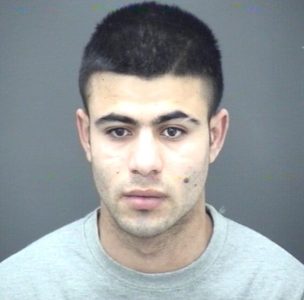 We will update this story as soon as we know more.
Live Updates:
---
2.15pm
A Home Office spokesman added: "We welcome the judge's sentencing in this horrific case. Our deepest sympathies are with the family and friends of Thomas Roberts, whose life has been needlessly cut short.
"The Government is committed to stopping abuse of the immigration system, taking decisive action against those who try to play the system".
2.10pm
Following the sentencing, Detective Chief Inspector Simon Huxter of Dorset Police said: "Our thoughts remain with the family and loved ones of Thomas Roberts and I want to thank them again for the diginified way they have conducted themselves throughout the investogation and court proceedings.
"I would also like to thank all those from Dorset Police and the prosecution team from the Crown Prosecution Service, who have worked tirelessly to achieve justice for Tommy and his family".
2.03pm
Before jailing Mr Abdulrahimzai to life imprisonment, Judge Paul Dugdale said: "On March 12, 2022, you murdered Thomas Roberts, a man you had never met before.
"You spent 26 seconds of your life with him, at the end of which you stabbed him fatally twice to the chest with a large knife you routinely carried with you.
"Your momentary act of extreme, senseless violence has left a family with a tragic loss that they will feel for the rest of their lives".
2pm
Lawangeen Abdulrahimzai has now been sentenced to life imprisonment with a minimum term of 29 years at Salisbury Crown Court.
1.55pm 
The Home Office said it will investigate the "red flags missed" and look at the full circumstances surrounding the case.
1.55pm
According to reports, Police were warned seven times that Abdulrahimzai had been carrying a knife before he went on to stab 21-year-old Thomas Roberts in Bournemouth, Dorset, in March last year.
The triple killer was put into foster care on arrival to the UK despite being convicted in his absence of murdering two people with a Kalashnikov assault rifle in Serbia.
1.43pm
Continuing his sentencing remarks to Lawangeen Abdulrahimzai, the judge said that growing up in Afghanistan would have had an impact on a young child on personality and behaviour.
"Abdulrahimzai's past life experiences have left him very damaged, I accept that it has affected how he interacts with people and how he reacts to some situations.
"He didn't hide from conflict, he didn't avoid situations that would put him at risk of becoming involved in violence, quite the reverse, as seen during the approach and argument with another man and the approach to Thomas Roberts and James Medway.
"He went seeking trouble with a knife".
1.39pm
Judge Paul Dugdale added: "He was 21 with truly great prospects and the rest of his life to look forward to".
1.38pm
Ahead of the sentencing of Afghan asylum seeker Lawangeen Abdulrahimzai, Judge Paul Dugdale said that although this trial is sentencing Mr Abdulrahimzai, it's about Tom Roberts.
"It's about Thomas Roberts and it's anout the indescribable pain his murder has caused his family and friends, many of whom are in the public gallery today.
"It's very clear Thomas Roberts was loved dearly by all of you. He was a contributor with many friends, he had worked hard to be in a position to put in an application to join the Royal Marines, and although entry is notoriously difficult I have no doubt he would have succeeded".
1.25pm
The defendant was convicted after an 11 day trial.
1.24pm
The judge has come back and taken his seat.
12.30pm
Tributes have been left outside the Subway shop to commemorate Tom Robert's life.
12.18pm
The hearing has been adjourned.
12.07pm
Ms Martin KC begins her submission on behalf of the defendant.
12.05pm
Abdulrahimzai said in his defense that he had no intention to kill or cause really serious harm to Mr Roberts – he "acted instinctively", and said he "feared for his life", and felt t he need to defend himself.
12.0pm
The months before the incident, Abdulrahimzai shared pictures of himself posing with a knife about 10 inches long on social media and TikTok. The defendant said that he was posting photos on TikTok to get followers from "people out there liking knives".
11.58am
Peter Wallace described introducing Thomas to water sports and said he was confident his application to join the Marines would have been approved.
11.57am
Mr Wallace added: "He was cut short by a murderer, and his murderer didn't just kill him, he killed a part of each and every one of the family and it is a part of us which can never be replaced.
11.56am
Peter Wallace, stepfather to Tom Roberts says there is now a "hole in our lives" where the 21-year-old should be.
11.55am
After being found guilty on Monday, the prosecutor revealed that Abdulrahimzai was previously convicted of murdering two people in Serbia. He was found guilty of two counts of murder as well as a related firearm offence in 2020 following a trial in his absence since he fled Serbia.
11.50am 
Thomas Robert's partner, Gemma Walker, said she was "surviving but not living" since his murder. Her victim impact statement said: "now there's nothing but complete and utter sorrow with no reason to keep going.
"I'm not the same, I will never be the same, I will never live like I did. I'm trapped in an endless cycle of disbelief".
11.37am
Dolores Wallace's statement read: "He was a perfect baby boy who brought us such joy.
"My heart bleeds, broken-hearted, knowing you are not here anymore".
11.37am
Thomas Robert's mother, Dolores Wallace, submitted a victim impact statement, which said she was the "proudest mummy in the world". The statement was read by prosecutor Nic Lobbenberg KC.
11.34am 
Philip Roberts asks for "justice to be served".
11.33am
Philip Roberts added: "I miss him very much in so many ways – he struggle to get up for work at 5.30am, I miss having his help fixinf things at home, I miss all his friends coming to the house, I miss his lovely girlfriend coming to stay with him.
"Tommy is my only son, I always wanted a son and he has been taken away from me, leaving a terrible void. I miss him every day, every hour, every minute".
11.32am
The father of 21-year-old Tom Roberts, Philip Roberts, shared the impact on his son's death at Crown Court: "My son was stabbed several times in Bournemouth town centre.
"When I arrived at hospital he was already in the operating theatre but they were unable to stop the bleeding, and after his heart stopped for the fifth time he died".
11.19am
The hearing will begin with personal statements from the victim and their family.
11.17am
Judge Dugdale is now in court, awaiting to hear the trial. Mr Abdulrahimzai is also in court.
11.14am 
The defendant has entered the dock.
11.09am
You can read more on Lawangeen Abdulrahimzai's previous convictions are here:
Asylum seeker who murdered Tomas Roberts previously killed two people in Serbia
10.57am
Tom Roberts was out with friends on Friday 11th March 2022. As he was walking with his friend, Mr James Medway, at 4.30am outside Subway in Bournemouth Town Centre, they found an e-scooter, when the convicted man approached in an aggressive manner and said it was his.
10.40am
Abdulrahimzai stabbed Mr Roberts twice in the left side after a dispute over an electric scooter in the early hours of the morning last March. The judge for the sentencing is by Judge Paul Dugdale.
10.33am
The jury verdict returned with 10 to two on Monday.
10.30am
Sailsbury Crown Court is starting the sentencing of Lawangeen Abdulrahimzai.