Some of the finest dancers from across the globe are attending this annual event in hopes to become victorious and gain trophies.
Doors opened early this morning, with the first round starting at 8.45am.
Competing in five rounds of Ballroom Opens, Amateur Rising Star Latin, Professional Rising Star Ballroom, Professional Rising Star Latin, and Amateur Rising Star Ballroom, the dancers have many opportunities to shine throughout the week.
This morning, some of the dances showcased were all Ballroom: Waltz, Tango, Foxtrot, Viennese Waltz, and Quickstep.
Later on in the day, the Professional Rising Star category featured dances of Cha Cha, Samba, Rumba, Pasodoble, and Jive.
The event is adjudicated by some famous famous in the dance world, including Lisa Bellinger Ivanets, and Warren Boyce. But an even more famous face in the dance world is Shirley Ballas, head judge on the annual TV series, Strictly Come Dancing.
Across the rest of the week, the different rounds for both Ballroom and Latin include under 14's, under 19's, under 21's, over 50's, over 60's, and Teacher-Student dances.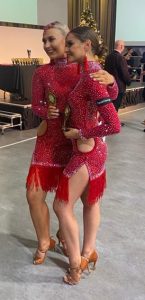 Bournemouth University Ballroom and Latin Dance society are also very excited to hear about the event. As they are practicing for their next competition in Birmingham, some dancers will be watching the event during the week.
The dancing is not quite over yet, as the event goes on from today until Sunday 22nd January, where the dancers will be crowned the winners of each category.
We will cover this event more throughout the week.