The Bournemouth University Bobcats made history on Sunday, winning their first ever Division 1 Playoff game 30-7 against the Bristol Barracuda.
Despite a slow start on defence, allowing Cuda to drive to the 2-yard line, the Bobcats' offence was quick to bring the Bristol side back to reality; Running-back Nico Miller ran in for a 98-yard touchdown on the first play of the drive – in what was also Miller's first play back from an ankle injury he picked up in the first matchup of the two teams in December. Alfie Birks then ran in the conversion making the score 8-0 to BU.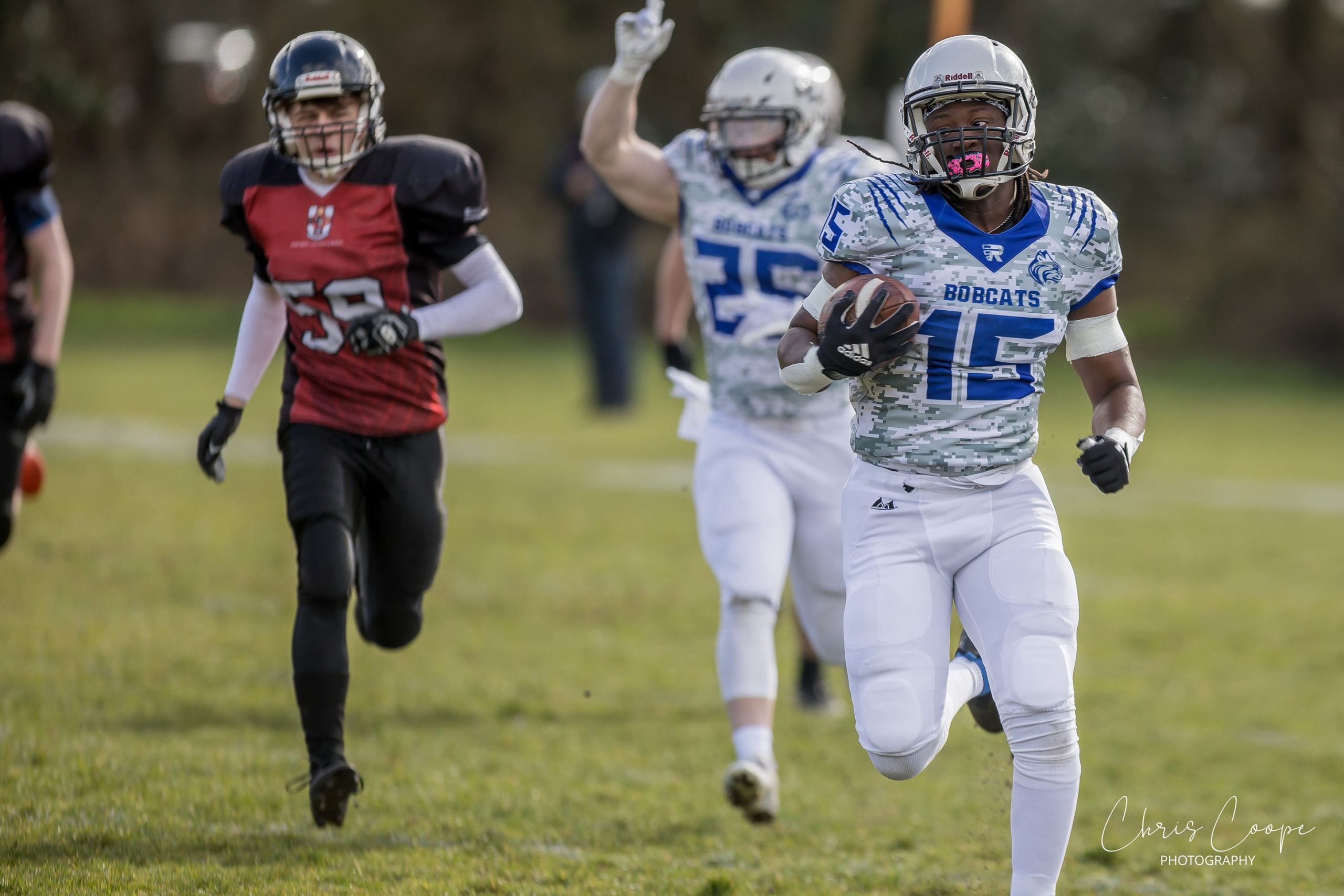 The defence were quick to get the offence back on the field, Cormac Meade forcing a fumble that was recovered by BU. The Bobcats O went back to the exact same play with Nico Miller, who broke four tackles on his way to the endzone for a second touchdown on his second touch of the ball. A penalty on the celebration pushed the PAT attempt back, causing Sonny Burbidge's kick to be tipped at the line and ultimately fall short.
The defence remained solid for the duration of the first half, while the offence ended the period with a pass over the middle from Alfie Birks to tight-end Gavin Dyall, who dragged multiple Cuda would-be tacklers into the endzone. Birks picked up another two points with his legs, making the score 22-0 to BU at the half.
The Bobcats managed to comfortably see out the second half, adding to their lead with a Teddy Pope touchdown on a triple-option, making two Bristol DBs miss.
Brsitol's offence showed flashes of success, including an end-around run which went 33 yards into the endzone, followed by a successful PAT kick.
Aside from a fumble recovered by Cuda at the Bristol 20-yard line, the Bobcats offence managed to chew the clock and see out the game in victory formation.
Next Sunday the Hertfordshire Hurricanes will visit Chapel Gate after their 20-12 win over the Exeter Demons, who the Bobcats were 1-1 against in the regular season, ensuring this will be a tough test for both sides.
When asked about the next round, QB Alfie Birks said: "We're looking forward to it, doesn't matter who the opponent is it's the same principle, just take it one game at a time."