A Bournemouth café has partnered with an environmentally friendly discount card – Gaia – to help customers save money on their coffees while encouraging them to save the planet.
Gaia is aiming to make "sustainable living more affordable and accessible whilst reducing the damaging impact of consumerism".
For example, five trees are planted per month for every member to give back to the environment.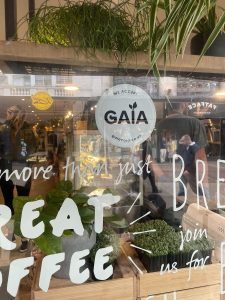 Esquires is the UK's leading ethical coffee franchise. Choosing to serve only organic and Fairtrade coffee while maintaining a healthy relationship with both farmers and consumer.
Being a Gaia partner means customers are able to enjoy the goods of Esquires Coffee in Bournemouth guilt-free.
Gaia state on their website changing to more sustainable practices is not an overnight job. It's one that develops over time with small changes. The brand is very forgiving and recognises the struggles in affording an environmentally friendly lifestyle and helps people to contribute and promotes giving back to the planet.
One of the employees at Esquires said the cafe saw plenty of customers each day with a Gaia card. He felt proud to work for a brand that was environmentally friendly.
People can become Gaia members for £4.49 a month (£3.49 for students). Details at gaiacards.co.uk.