Christchurch FC's new digital programme  has sparked controversy amongst fans as many prefer a more traditional paper programme. 
The modernised programme lasted less than two months however and the club have already reverted back to a print-based programme, due to lack of funding provided for the scheme. 
Ex social media manager Stuart Bourne introduced the innovative system at the start of the season to try and improve sustainability at Hurn Bridge, but his recent departure marked the end of its use. 
Stuart said: "I hoped to reduce the printing of unnecessary paper and implement an eco-friendly system that is encouraged at my own place of work."  
The introduction of digital programmes also caused a division of opinion within the fanbase, some getting behind the more environmentally friendly idea whilst others preferred sticking to old ways. 
Speaking with Christchurch local Richard White, he explained how paper programmes are much preferred by the older generation at the club.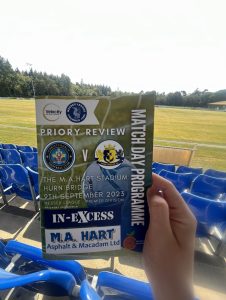 "Not only is it easy to access, it's also nice to have as a memory of being at the game." 
In contrast, the digitally advanced method did get the approval from the vast majority fans, particularly those who regularly attend the matches. 
Tony Bernard, a diehard Christchurch fan, was relieved to have the digital program at hand due to other commitments meaning he would not be able to achieve the weekend's fixture. 
"I think it is essential to have the option of both digital and print programmes. Not being able to be there in person is a shame in itself, but at least I can stay informed with this new system in place." 
An initiative that developed great interest, and it will be interesting to if fans are willing too warm to the return of paper days.