Cherries defender Holly Humphreys has urged caution after her AFC Bournemouth Women's side went top of the table after an incredible start to the season.
The team have enjoyed a stunning seven-win streak to lead the Women's National League – but Humphreys said they must remain focused if they are to maintain their success.
"We can't get ahead of ourselves," Humphreys told BUzz News. "We take it game at a time and focus on the next challenge."
Steve Cuss' side maintained their 100 per cent record on Wednesday with a comfortable 7-1 victory against Moneyfields Ladies.
New season signing Gemma McGuiness proved her talent by completing a flawless 14-mintue hat-trick which took her personal goal tally to double figures.
An early birthday present for Lucy Cooper who turned 18 on Thursday netted twice, and defender Abby Jones' first goal of the season sealed the three points for Bournemouth.
In the post-match press conference Cuss praised his team.
He said: "I think it was an outstanding first half performance, I've got to give credit to the players especially after the disappointing result against Norwich in the cup."
The Cherries now have a three-point lead at the top of the table with second-placed Exeter City beating Portishead Town 5-0 with a game in hand.
Victory against Moneyfields marks their best start to a season in over three years having scored an impressive 41 goals and only conceding four.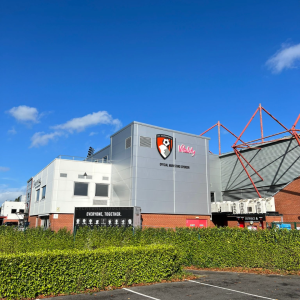 Following their win this week it was announced that the Cherries will have over 4,000 fans attending their league fixture against Portishead Town at the Vitality in November.
The Cherries played at Vitality Stadium once last season, attracting a crowd of 3,067 for a 0-0 draw with Maidenhead United in April. An increase of over 1,000 more spectators makes it even more exciting.
Cuss added: "Hearing the news gave us a real buzz, 4,000 is an incredible amount to watch us. We are so grateful for all the support, and we can't wait."
Bournemouth must face Swindon Town Women in the league this Sunday before heading to the Vitality.