Bournemouth University rugby players had to call in police and ambulance after their training session was invaded by a man who physically and verbally attacked players.
A middle aged male disrupted the crucial session at Meyrick Park, Bournemouth, on Thursday (October 12) by attempting to attack several players, throwing punches whilst also using racial and homophobic slurs.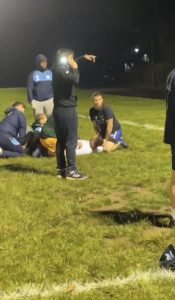 Conor Jeje, first team player for Bournemouth University was on the sidelines dealing with the man.
He said: "Everyone was quite shaken up. Our coach's main priority was our safety, he halted the training until six of us were able to hold the guy to the floor whilst we waited for authorities to arrive."
Conor went on to explain the man targeted one of the players by following him, attempting to punch him numerous times despite the player, Max Brain, walking away and not engaging.
The man was said to be drunk and was already covered in blood when he arrived during the evening training session.
He shouted racist slurs towards the black players and used homophobic slurs continuously towards not only the players but also the coaches.
Murray Jardine, a second team player for Bournemouth University, who was also trying to contain the situation, said: "We have never had anything like this happen before. SportBU have already offered us support and checked we were all alright which has definitely helped some of the guys feel better about what happened."
Once the police arrived after 30 minutes the man continued to be aggressive towards not only the players but also the female police officers.
No further information has been given about the man however Dorset police have collected players details for further updates and questions.