Campaigners have hailed Litter Free Dorset's sustainable seaweed 'beach butt holder' as a success this summer.
Ashtrays made out of seaweed paper have been handed out free of charge all summer at beaches around Bournemouth as part of their 'Love Your Beach' campaign.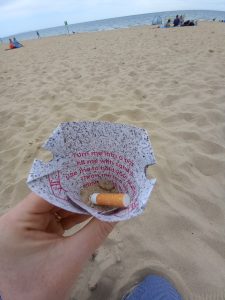 The project came about after 48,000 cigarette butts were found on beaches in Dorset over the space of one month.
The butt holders are designed to encourage smokers to discard of their cigarettes in an eco-friendly way that isn't going to harm the environment.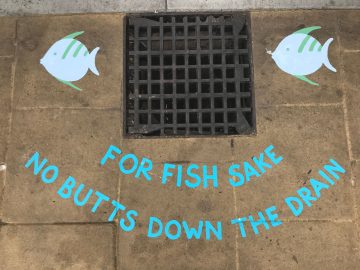 Notpla, a company that creates packaging solutions from seaweed and plants, printed the holders so they can disappear naturally.
The company partnered with local businesses such as Rick Stein's Sandbanks, Easy Riders Surf Shop, RNLI lifeguards and Branksome Beach Kiosk. These organisations distributed the butt holders free of charge to locals as well as Litter Free Dorset setting up pop-up events.
Sophie Carpenter, Litter Free Dorset coordinator, said: "Smokers just need to put a small amount of sand in the bottom of the seaweed butt holder, put the cigarette bud in the holder then when ready to dispose of, fold over and put in the bin- it is a portable ash tray."
She added: "We engaged with lots of businesses in the local area, that received a lot of positive feedback about our product."
Emma Teasdale, another coordinator for Litter Free Dorset, said: "Cigarettes contain micro plastics and leak toxins such as arsenic that go into the ground and into the waterways."
The organisation has also partnered with Poseidon Water sports, the Coacoara Foundation and local campaigner Liam Ulla to install new wheelie bins at Whitley Lake, Sandbanks, to encourage the public to recycle and not litter on the beach.