Women's sport is facing a boom across the country due to England women's teams recent successes, and cricket is adding itself to the list after a great summer in the Women's Ashes. 
Viewing figures for the women's test match at Trent Bridge in June were up 400% from the last series in 2019 according to Sky Sports, while the T20 series grew by 135%.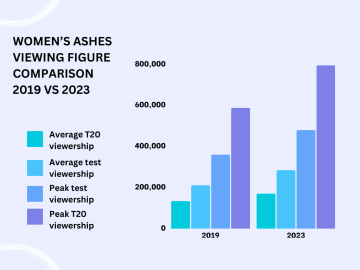 TV viewership of The Hundred series was also up, as Southern Brave Women's team brought the title back to the Ageas Bowl for the first time, which may have inspired girls across Dorset.
According to data from Sports England, the number of girls participating in cricket is back to pre-Covid levels, with Active Lives recording 56,300 women participating in the sport through their programmes in the past year.
Of women who play cricket at least once a year, 46% have a membership with a club, a number which rises to 60% for those who participate monthly, as local clubs look to contribute to the rise of girls in sport.
Winton Cricket Club Chair Brian Dobson says that increasing TV viewership of women's sport will continue to have a great impact on girls coming into the sport. 
"You can now see that the women are playing cricket, it's not just a boys' game, it's a women's game and girls game too. 
"You can see them on the television and I think you'll find national success will have more impact on the women and girls section."
As Sport England collects data for their Active Lives programmes for 2023, it is expected that the successes of English cricket that have been seen on TV will be replicated by the number of girls now playing the sport, as the promotion of the women's game continues to inspire a generation.