A female-only gym has launched in Southbourne.
Sobo Fitness launched their new gym on 4 November on Southbourne High Street.
The launch involved taster yoga sessions, strengthening classes and meditation.
The founder, Lizzie Astin-Gregory wants to serve the needs that haven't been met in the last few years.
Lizzie said: "Women in the fitness industry are still widely under-served.
"We have proper lifting kit in here and we are going to teach women how to use it safely and effectively."
The founder of Sobo Fitness initially had the idea to open a gym for everyone, however, when she began to design the classes, she realised they were all for women.
Lizzie said: "I thought, let's make it a safe space and I am really pleased I have done so because women were crying out for it.
The mother to a two-year-old said: "This is a place for them to come to nourish, fill up, feel better and make the rest of their day a little bit easier because they've taken some time to do something for them.
"We aim for customers to get out of their head and go into their body."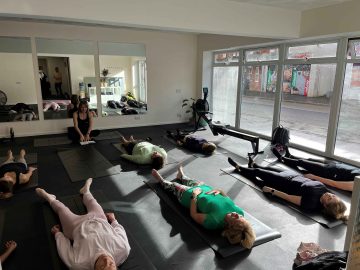 Charlie Baker known as the 'Body Positive Fitness Coach' is a freelance personal trainer at Sobo Fitness.
The body positive fitness coach believes the difference with female only gyms is the culture.
Charlie said: "A lot of women feel self-conscious going into big commercial gyms, they are very male orientated.
"To have these safe spaces for women to be able to come and feel that they are in a place of non-judgement is really important."
Jenny Young, who attended a taster class at the launch said: "It feels like a safe environment.
"It is empowering and unique and it is definitely something much needed in the local area."
The new gym will include group sessions, personal training, coffee, juice, and community events.
Lizzie said: "I am so excited, it's all unknown, it's great. We are going to make sure this the best it can possibly be and deliver on all the promises we made."