More than 400 people protested at Bournemouth Square in support of Palestine in response to the Israel-Gaza crisis.
Demonstrators marched through Bournemouth's town centre, chanting "Free Palestine," while carrying the Palestinian flag and handmade banners.
A number of speakers address those gathered in Bournemouth Square before the march begins.
According to the most recent reports from Gaza's Ministry of Health, 8,306 people have been killed since October 7.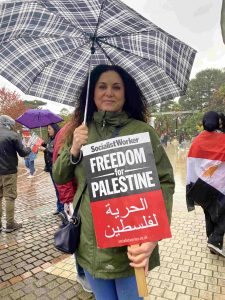 Protester Emma Hamid said: "It hit me very hard seeing those images. I've been crying all week."
She added: "It's just unbearable and barbaric.
"That's why I'm here because I can't see people suffering."
Protester Marc Hoyle said: "Every single day, every hour, every minute children are getting slaughtered and no one's doing anything about it."
He added: "I think our leaders have failed us."
The event was organised by Palestine Solidarity BCP in order to raise awareness.
Hanna, who did not want to give her full name, is the social media officer of the Palestine Solidarity BCP Instagram account.
She said: "We want to keep being the voice for the Bournemouth area and the Bournemouth community.
"Especially with the talks that we do at the beginning of the protests.
"They're able to share facts, opinions and educate people."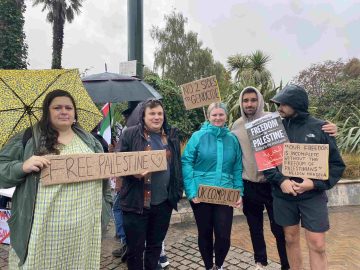 Amongst the featured speakers at the event on October 21 was Joe Salmon, one of the six Green Council members on the BCP authority.
In his speech, he said that people are mistaking this as a "religious conflict" which is "false" but rather one that is "driven by imperialism and colonialism".
Joe added: "The council needs to send a loud message to the government that this situation cannot be allowed to continue."
This was in response to the rejection of a full ceasefire by British Prime Minister Rishi Sunak.
Following attacks on multiple hospitals, humanitarians have repeated their urgent calls for a ceasefire.
As more than 670,000 Palestinians seek refuge, according to the United Nations situation report.
Hanna said: "It's not about choosing a side with a cease fire, but a cease fire is just to stop bombs and war."
She added: "Our government should be doing more to protect the civilians in Gaza."