Sporting institutions and companies are unique in their own way. They'll have sporting goals and will aim for financial freedom like any other business.
For many small sports clubs and businesses that operate in the UK and Dorset, it can be difficult to achieve true financial freedom due to numerous reasons.
Whether it be low attendance, tough regulations and rules, or high costs, sporting businesses in Dorset have had to take action.
Poole Pirates director Matthew Ford said: "Being in the first division requires you to fill a TV contract, which doesn't suit us.
"The crowds we've been experiencing this season have reflected that, and more importantly, the revenues, as we were struggling for money in the first division."
Hamworthy United chairman Steve Mitchener said it was a "sadness" regarding recent events and added: "It was basically financial, travel costs, player wages, and then compare that to the crowd numbers that we were getting, we were losing money, and obviously the situation with the stand being deemed unsafe by the Dorset FA had to be replaced.
"In the end, we had to pull out of the Southern League and drop three divisions to the Dorset Premier League to keep the club alive."
For the more fortunate in Dorset, these issues aren't as much of a worry due to the large audience that they can market to.
SportBU has been a successful business because of the number of sports teams, clubs, and events they run thanks to the 15,000 students they have access to.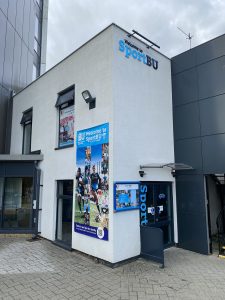 SportBU director Rob McCullen said: "Our main source of income is our football leagues. We had 100 teams last year join our five, nine, and 11 a side campus league.
"Elsewhere, we make income from our courses that give coaching qualifications, fitness classes, £180 per year gym memberships, and we get internal grants from the university."
For many sporting businesses in Dorset, mountains will have to be climbed and actions will have to be taken to make ends meet, but others will have the pleasure of running a business free from financial worry.