The charity, that campaigns for tenants' rights in the UK, has said that 1.1 million people, including children, are at risk of losing their homes.
The figures show that millions of renters are fearing the worst, with more than three in 10 adults having borrowed money to stay on top of increased rent.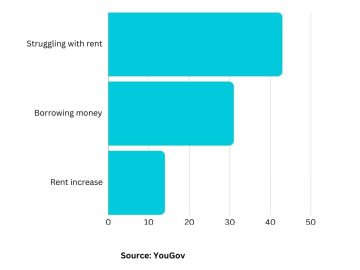 Shelter said in a press release: "A situation it says is being made much worse by the government's nearly four-year freeze on housing benefit, which has left any support available falling far short of the cost of actual rents."
The government has decided to replace housing benefits with Universal Credit, but some renters are finding they don't meet the requirements to receive them.
Renters now must cover shortfalls themselves using money meant for other essential bills.
Shelter said it is "calling on the government to immediately end the freeze on housing benefit", which have been frozen for the past three years.
The BCP area was the  local authority with the third highest number of rough sleepers in 2022, after Camden and Westminster, Gov Statistics reports.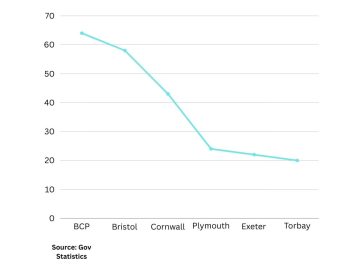 In the southwest, BCP had the highest number with 64 rough sleepers on a single night during 2022.
Earlier this year, the BCP Council reported that the number had significantly decreased with 20 rough sleepers in February.
The Prime Minister Rishi Sunak has said that the government is investing £2bn in tackling rough sleeping.
He and other senior Conservatives have not shared the same sentiments on homelessness as a "lifestyle choice" said by former Home Secretary, Suella Braverman.
After days of speculation, Mrs Braverman was sacked and replaced by James Cleverly, the former Foreign Secretary in a reshuffling of the Cabinet by the PM.
Read the full Shelter report on their website at www.england.shelter.org.uk
Read the BCP statement on the council's website www.bcpcouncil.gov.uk/