Boxing club manager Shaun Weeks has said that sadly, star boxer Ruby White would be unable to attend the upcoming boxing dinner for Sturminster Newton Amateur Boxing Club this weekend after suffering from illness.
The boxing dinner will take place in Gillingham where 16 bouts have been organised for boxers all around the country and even abroad.
Shaun says they even have two boxers coming over from Switzerland, where all the money raised will go back into the club to fund all the running's of the club and competitions which they attend, they hope to raise around £5000.
The club has been running since 2001, after Shaun re-opened it following its closing in 1996, since then, the club has seen numerous amounts of western county champions, 15 national semi-finalists, eight national runners up, two national champions and one European champion.
Ruby White, who is currently a two-time European champion and three-time Great British champion, is unable to attend due to illness which Shaun said "is a real shame as she's a machine, nobody wants to fight her anymore as she is unbeaten for 28 bouts in a row, she's hungry for it, you have to be hungry for it to succeed in boxing."
Another boxer, Sonny Lindsay, a western county champion, from a different boxing club explained: "it's a dangerous sport, you have to be 100 percent disciplined and 100 percent motivated if you genuinely want to progress."
Shaun explained that after the dinner is over he would be looking more into spending and getting funding for a purpose bought gym with better facilities for those at the club.
Alongside this he said "it's really a family community club, even on our Facebook it says we win together we lose together" showing that even though boxing is a singular competitive sport, this is a community where people feel wanted and loved.
Brooke Lindsay from Poole, who boxes for fun, explained that, "it is a good way to relieve stress and always has been, I would recommend it to anyone who's looking for a sporty way to release stress."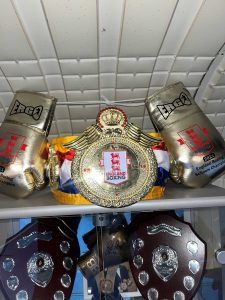 Some of Ruby's national trophies. Photo by Izzy Jackopson.