The public unite over growing concerns for Universal Credit claimants.
As Universal Credit – a system that will merge six existing benefits into one monthly payment – gets rolled out in the south angry Southerners have shown their unease over the new benefits shake-up in a National Day Of Action dubbed 'STOP AND FIX UNIVERSAL CREDIT'.
On Saturday 2 December protesters took to Southampton streets to demand the government stop and fix Universal Credit before more people are left penniless over the Christmas period.
Southampton resident Shane said: "It's caused a lot of hardship, and it's caused a lot of stress, and it's caused a lot of anxiety.
This came out in 2013 and ever since then it's gotten worse and worse.
"They haven't made it fair for people in financial hardship or for those with disabilities."
The Day of Action was formed by Unite the Union which saw protests being staged up and down the country.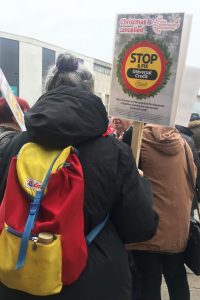 This is amid the Government announcing in the Autumn Budget that they will provide £1.5 billion to improve the benefits system.
This will see the wait for the initial payment cut from six to five weeks and the initial seven-day waiting period removed.
In a statement Secretary for Work and Pensions, David Gauke, insists: "Under universal credit, people are moving into work faster and staying in work longer than under the previous system.
"As we introduce universal credit, we are constantly improving the way in which the system works.
"We recently introduced changes to ensure that everyone who needs advance payments has access to them."
More on Universal Credit here: