We may not wish to talk about what happens to us after we die, but there is much to be considered.
It's Halloween and fittingly, death is on the agenda at Bournemouth's Death Café in Southbourne. Eight of us, including those from the funeral industries, sit around a pub table, surrounded by lit pumpkins, in a warm, friendly environment to discuss death and all that comes with it.
Celebrant, Michelle McCann, who is behind the café, is one of many around the country who are breaking down taboos concerning death, "everyone has encountered death, but no one talks about it."
The Death Café encourages discussion and raises awareness about choice, "people are not aware of their choices, they just know they have to get on the trail of the hospital, the funeral directors, the crematorium, the chapel and that's the way you go. But it's not at all."
Nessa Mclane, a 22-year-old from Sittingbourne, Kent, lost her father in June 2018. "What bothered me was how little we knew about funeral directors. We were absolutely clueless." Informing Nessa about the existence of Death Café's, her tone switched to excitement, "that's amazing! I honestly think that's great. I never had any idea that this exists. I think that's a really good idea, everyone just thinks about death as being this morbid thing."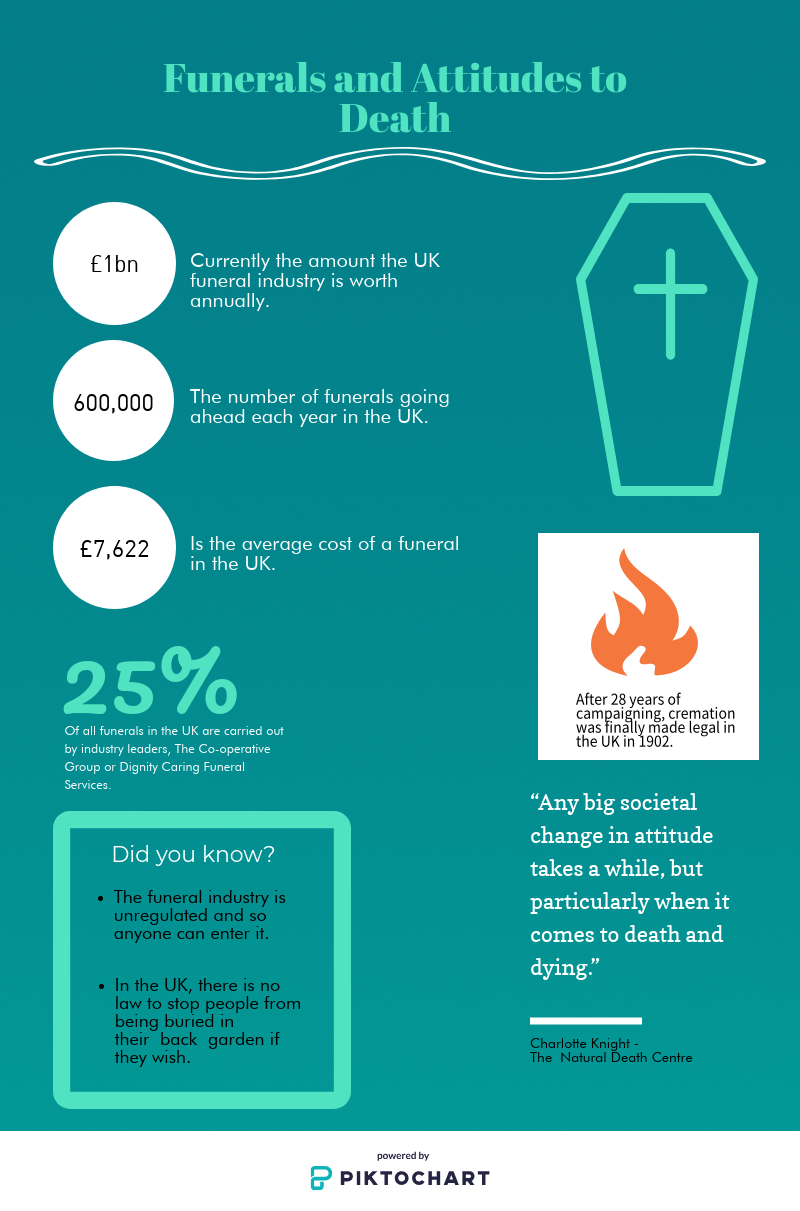 The morbid atmosphere created by funeral ceremonies could be a reason more people are opting for less extravagant affairs. But for many, cost is an issue and as a direct cremation (cremation with a ceremony) is significantly cheaper, it is proving an invaluable option for those in financially tight situations, including Nessa and her family, "we couldn't afford a cremation with a ceremony."
People are not aware of their choices.
Media coverage following the direct cremation of David Bowie in 2016 helped to raise awareness of this option, and as a result, the funeral industry saw a rise in people opting for this choice.
Ceremonies (or the lack of), are not exclusively gaining traction in the market, but the way we are disposed of too. The need to find sustainable alternatives to traditional burial drives this, as cemeteries around the nation fill up. Within the next 20 to 30 years, it is predicted that London's cemeteries will be full. The recycling of graves, where an old grave is buried down deeper, and a new body put on top, is increasingly used to aid this, although sharing a grave with a stranger isn't for everyone.
Body exhumation (digging up bodies), is part of this process. Body exhumer at funeral director Chester Pearce, Phil, explains, "there is a huge shortage of burial space in Bournemouth." He is currently exhuming an old cemetery in Bournemouth as part of a housing development. Phil admits that space in general is a premium and understands housing often becomes a priority when land is concerned, even when the need for burial space is recognised and required.
Cremation appeared to be the answer, and although it does use less space than burial, it isn't without controversies. Charlotte Knight from the Natural Death Centre (NDC), an educational group and advocate for greener body disposal, warns, "unfortunately, cremation is a big drain on energy and the process releases toxins into the environment. We need a solution, environmentally speaking."
However, crematories strive to offer the greenest cremations possible, with filtration systems and tight environmental regulations to follow.
After looking around Bournemouth Crematorium, it was surprising how clinical the crematory was. Employee, Radow Slabat, showed me around and informed me that they have the most up-to-date systems in place. Advanced technology controls the levels of oxygen, CO2 and dust in the chambers, where the coffin is placed, while upstairs filtration tanks filter out any nasties including mercury.
However, cremation is set to gain an 'eco-friendly' rival, offering more choice to the public. Resomation, an alkaline hydrolysis process, where the body is submerged in a water solution to help speed up the natural breakdown of human remains, has been referred to as water cremation and is considered the most innovative alternative to traditional methods.
Sandy Sullivan, Founder and Director of Resomation Ltd explains the process, "we reduce the body to ash using hydrolysis (water). You get pure white calcium phosphate back, which is simply the bone. The [remaining] liquid then goes to the water treatment plant to be recycled."
However, concern has been expressed over possibilities of human remains entering the water cycle. Charlotte worryingly mentions, "you have a very alkaline solution which is then being pumped back into the water system, so that's not without its environmental implications." Although Sandy assured the liquid is "innocuous", "sterile" and contains "no DNA".
Essentially nothing is without some degree of environmental implications. According to Charlotte, "in the UK the most environmentally friendly option is natural burial." This uses bio-degradable caskets that are buried in a natural landscape. The body is not embalmed and there is often no commemorative plaque; trees may be planted to help encourage wildlife.

(Video: A look at the facilities offered at Harbour View Woodland Burial and Crematorium facility in Lychett Minster near Poole.)
The NDC raise awareness around choice, "we're all about education, giving the public access to facts, the truth and having options, as well as empowering people when it comes to death." Charlotte expressed frustration over getting this information to people in need, "if they just pick up the phone and call us or look on the website and just have a quick read through our information, they'll be much better equipped."
Whether you're after a traditional, financially friendly or eco-friendly send off, the options are there to be considered and discussed.
As we say goodbye at the Death Café, there is a sense of empowerment from the conversations and education on death. People in the industry are hopeful for the future, with the help of innovators, conversation starters and technology making an impact. It's time to get this information out to the wider public, so we're all informed on the options available to us during difficult times, as well as feeling free to discuss the subject in everyday life, without fear of sounding morbid.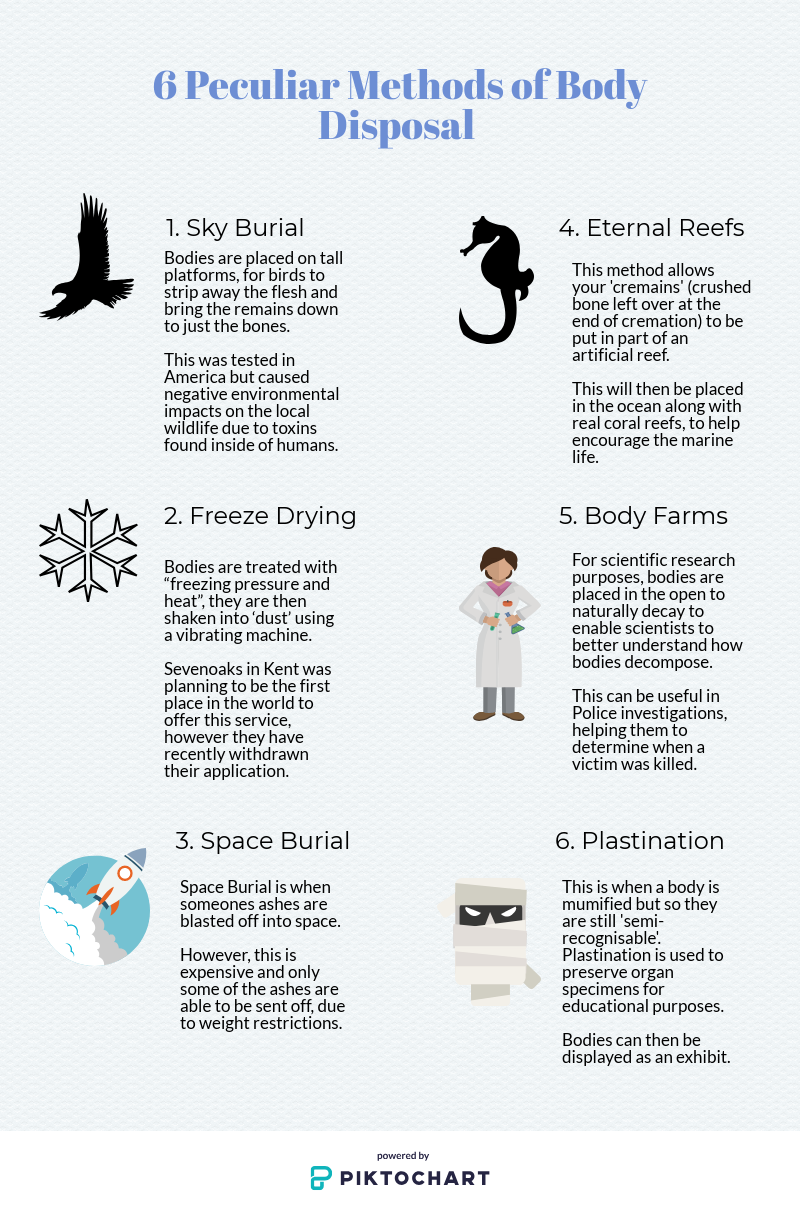 For more follow Wake up to Death on Facebook and Twitter.
All images in slideshow, infographics and video by Heidi Merrony.
Read more