The road works on the A338 have recommenced causing delays for workers heading towards Bournemouth, following the short break over Christmas.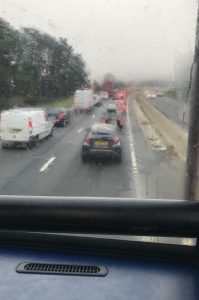 Photo of A338 Road taken by Buzz reporter Hannah Craven 
Many local businesses are struggling with shoppers avoiding going to the town.
The roadworks have also impacted workers.
Emma Walker travels in from Verwood four days a week to her work at Lansdowne, Bournemouth and has been majorly inconvenienced since the roadworks began.
She used to leave her house at 8am and be at work on time, but now has to leave an hour earlier.  For Emma, this has affected more than just her working life. She also has to drop her children off at school much earlier than before.
Emma explained that at the end of the day her children are left "completely exhausted which then impacts their attitude and behaviours."
She added: "The impacts are endless really."
Liz Butler finishes her night shift and then has to drive her children to school.
"It's hugely stressful leaving work at 8am after a 12 hour shift and trying to make it home for 8.30am for the school run!"
The aim of these works are to add a third lane towards the Royal Bournemouth Hospital.
Gary Powell, Head of Highways and Transportation and the senior responsible officer for the A338 improvements has given us this statement:
"With improvement works resuming today, we would like to remind motorists that there will be delays to journeys especially during peak period. We would urge motorists to think about allowing extra time for their journeys, consider public transport, car share or look at alternatives routes where possible. We appreciate not everyone will be able to do this, but even if a small percentage of motorists were able to change their travel arrangements it would make a huge difference.
"We apologise for the delays and appreciate these works and travel management arrangements will inevitably cause disruption.  We will continue to do all we can to ensure the works are delivered as efficiently as possible."
The works on Spur Road are not expected to be finished until the summer of 2019.