Lifelong Bournemouth fan Jamie Bird is set to be remembered with a 31st minute applause in their game against West Ham this Saturday.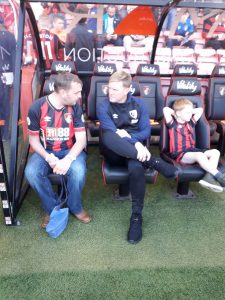 The commemoration has been arranged by his brother, Luke Fletcher, after suggesting it on Twitter and Facebook.
Jamie died last week aged 31, following a long battle with brain cancer.
"He was a lifelong Bournemouth fan, he used to go to loads of games back in League One and Two.
"Unfortunately he hadn't been able to make it to as many Premier League games as he would have liked with his circumstances" Luke told us.
Jamie left behind three children: Dylan, 6, Callum, 3 and Amelia the "miracle baby" who was fathered by Jamie despite his condition, she's aged 4 weeks old.
Hear the full, uncut interview with Buzz News reporter Stephen Wright below.