Bournemouth Samaritans are encouraging people to beat 'Blue Monday' and get together as part of a national initiative they say can save lives.
The 'Brew Monday' campaign wants friends, family and colleagues to reach out and talk to each other on a day that can be associated with negative thoughts and feelings.
Audio Documentary: 
We went to Bournemouth train station this morning to see the Samaritans campaign in action and gauge commuters for their reaction.
Chandy David also came into the studio to discuss his own mental health journey and the importance of listening.
Video: "We're there for the good and bad times" – Bournemouth Samaritans Director Richard offers support on 'Blue Monday'
What's the story behind 'Blue Monday'?
Typically falling on the third Monday of January, 'Blue Monday' is said to be the most depressing day of the year.
Freezing temperatures, faltering New Year's resolutions and post-Christmas gloom might explain why it is hard to see the positives at this time of year.
It all started in 2005 when a holiday company commissioned psychologist Dr Cliff Arnall to create a formula, taking into account a number of different factors including weather and debt, as shown below: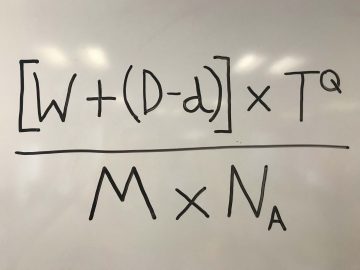 While it may have started as a PR exercise widely rejected by scientists, 'Blue Monday' stuck.
'#BlueMonday' is trending on Twitter and its sister hashtag '#BrewMonday' is also doing well with celebrities and organisations tweeting their support for the Samaritans. Some of the reaction has been collected below:
Pop the kettle on and let's turn #BlueMonday into #BrewMonday with @samaritans pic.twitter.com/X4sG2rzefA

— ?️‍??? Matt Lucas (@RealMattLucas) January 21, 2019
We're supporting @samaritans this morning and throughout the day to help turn #BlueMonday ? into #BrewMonday ☕ by encouraging people to get together for a cuppa and a chat at some of our stations?

➡️ https://t.co/AZPIQ26Xa5 pic.twitter.com/rGXyMv7Tu6

— Network Rail (@networkrail) January 21, 2019
It's surprising to many that millennials are the most likely age group to report feeling alone. Social presence doesn't always equate to happiness. Today I will spend time with someone I haven't spoken to in a while ❤️ Join the domino effect, reach out ?? @samaritans #BrewMonday pic.twitter.com/hDae1nBvgx

— Dr Alex (@DrAlexGeorge) January 21, 2019
All material including images, videos and audio are owned by Josh Wilde (excluding embedded tweets).