Shopowners are claiming that prohibitively high rent is the reason close to 40 shops sit empty in just one Bournemouth street.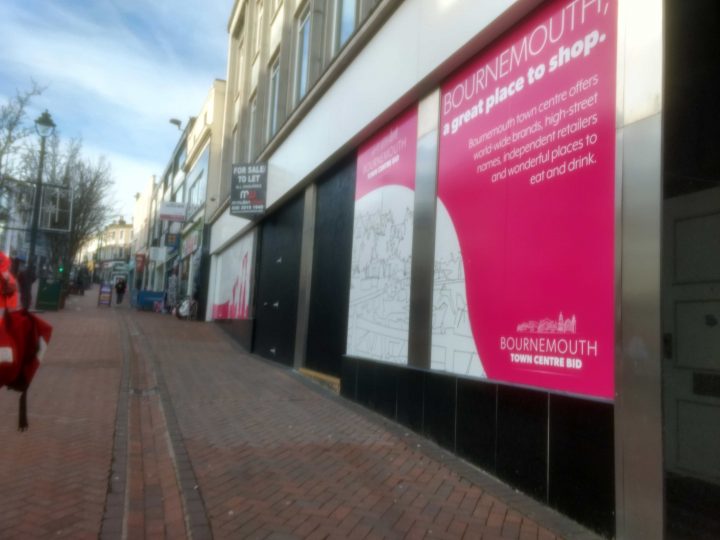 A huge variety of shopping spaces sit vacant despite the recent Christmas shopping season, the busiest ever period for the High Street.
Locations as varied as a former Marks & Spencers, a nightclub, a Brazilian grill, and even a barbershop now sit derelict with to-let signs being numerous on the streets of the town centre.
The most striking of these is Old Christchurch Road, going from Lansdowne to the town centre, with some empty sites right next to each other. Thirty-nine premises are empty.
"The reason [for this] being – the rent's too high around here. A place for renting here is just as expensive as London. If not, London's cheaper!", says Ross, assistant manager of the British Red Cross charity shop on Old Christchurch Road.
He claimed one store in Bournemouth's Westover Road had to leave because the rent was too high. He added: "Now if they can't afford to do it selling a shirt at £150 or a pair of shoes for £200, then it's going to put a lot of pressure on local businesses that own their place."
The British Red Cross shop is one of only two charity shops in Bournemouth, and Ross says their space is privately rented as well.
His claims that Bournemouth retail spaces are as expensive as London. One of the spaces on Old Christchurch Road was quoted as a rent price of £4,584 per calendar month, or £55,000 per year. Another on Westover Road was quoted as £3,125 per calendar month, or £37,500 per year.
Similarly big spaces in London can cost up to £60,000 per annum. However, the capital's prices are complicated by higher council tax rates, a number of shopping centres, and a higher cost of living.
It has also been a tough few years for the British High Street with many consumers' shopping habits changing and moving online.
Jonathan Lung, general manager of Esquires coffee, however, believes that you can succeed in the Bournemouth town centre if you find a unique niche.
"Our demographics are completely different [to Bournemouth's average]. Our range is completely different. As the economy shifts, we will ensure that we will remain preferred by that clientele," Jonathan says.
"Community service is also a priority. We always ensure that we are community-focused here, and it's our first store in the South West. It was tough, but you can succeed here," the general manager continues.
Esquires only opened in September, and Jonathan says the Christmas period was great for the shop.
His experience, however, is not reflected uniformly. Despite Bournemouth's booming tourist numbers, the vast number of vacant shops remain a reminder of the struggles of the High Street.