Reports published on the Police UK crime map website reveal 1,946 crimes were reported in Boscombe alone from January to November 2018.
The crimes range from arson to bike theft and all occurred within a 0.15 square mile area in the centre of Boscombe.
This covers the main High Street, Churchill Gardens and Boscombe Crescent.
The number of crimes committed was 5.8 daily, with July being the month with the most reported crime with a rate of 230 reports.
Christchurch Road in the centre of Boscombe was a particular hot-spot with 21 reported crimes in July alone, with eight cases of anti-social behaviour and six of shop lifting, these two being the most common crime categories.
Public opinion varied on the statistics. Caroline Rodrigues, 28, said: "I don't really come to Boscombe often in the evenings. If I do come to Boscombe, it'll be in the day. I wouldn't want to walk around in the evenings on my own."
Cyclist Al Hayball 61, expressed concern after hearing of the high levels of bike theft in the area: "I don't tend to leave it for very long, and I leave it where there's cameras."
But Melanie Taylor, 65, said: "I don't do statistics because they can be made to represent anything people want them to represent.
"I'm here every single day and we do have bad days and we do have good days. We have all kinds of people living here, I like living here, I've lived here a long time.
"I do see things change but a lot of the time it's for the better."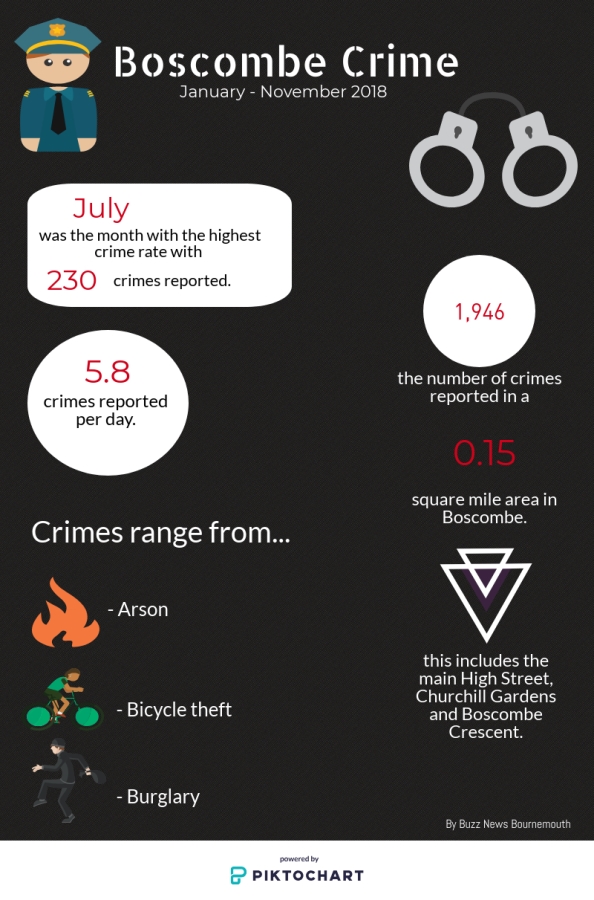 Boscombe crime rates. Statistics from Police UK Crime Maps.
Words by Heidi Merrony