A health expert has labelled Bournemouth's sexually transmitted infection rate as "awful".
Speaking on National STIQ Day, Samantha Dawson of the Body Positive Clinic in Dorset said: "Our STI rates [in Bournemouth] are awful. We're actually highly prevalent for HIV as well.
"People are happy enough to go out and have sex, but for some unknown reason they don't seem to want to either wear condoms or if they're not going to wear condoms, go to a clinic regularly.
"It's all about being aware of how you look after yourself and your sexual health. If you're at the clinic getting tested, get tested for everything."
Samantha has also used her personal story for good. She holds talks in schools to teach younger generations about keeping themselves safe, as well as running Body Positive Dorset which supports people living with HIV.
National STI Day is on 14 January every year, exactly two weeks after the festival period, to represent how long it takes for Chlamydia to become detectable. It is also exactly one month before Valentine's Day, encouraging people to ensure they are free of infections and are able to enjoy the day safely.
Figures relating to sexually transmitted infections aren't showing much change. In 2017, there were over 400,000 diagnoses of sexually transmitted infections in England, roughly the same as the previous year.
There was also an eight per cent decline in the number of chlamydia tests taken between 2016 and 2017.
But just last week it was revealed that two women in the UK had contracted a case of super-gonorrhoea, a string of the sexually transmitted infection that is resistant to antibiotics.
Dr Nick Phin, Deputy Director of the National Infection Service at Public Health England, said: "Everyone can substantially reduce their risk by using condoms consistently and correctly with all new and casual partners.
"Anyone who thinks they may have been at risk of getting an STI should seek an STI screen at a sexual health clinic."
Listen to the full interview with Samantha Dawson below:
The infographic below shows Bournemouth statistics relating to sexually transmitted diseases: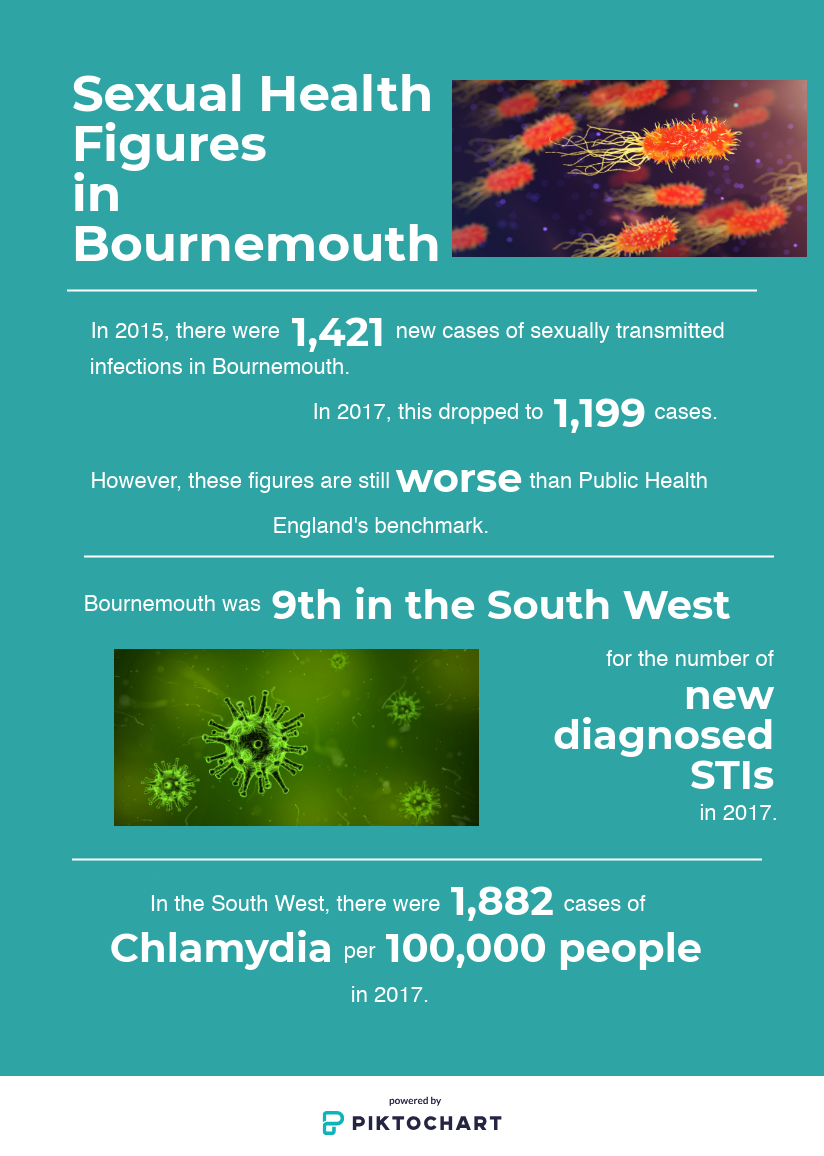 How to get tested
There are different 'window periods' for different STIs. A window period is the amount of time between contracting an STI and it becoming detectable through a test. For chlamydia and gonorrhoea, the window is two weeks after exposure. For HIV it's four weeks and for syphilis, hepatitis B and C it's 12 weeks, but tests can often show positive earlier.
You can get yourself checked for STIs at Bournemouth Hospital, The Junction clinic and The Shores clinic.
Alternatively, NHS Dorset offer free 0nline chlamydia screening kits that you can get delivered to your home. They will then text you with your results. This method of testing is advised to people who don't have any symptoms but want to do a test anyway.
If you want more information on the National Chlamydia Screening Programme, you can call the national sexual health helpline free on 0300 123 7123, or if you would like to speak to the local screening team in Dorset, call 0300 303 1948 and chose option 4.