It's not in every pre-match press conference where the topic of meditation comes up. But ahead of the Cherries' trip to Anfield on Saturday, this was the case. Buzz reporter Luke Donnelly finds out why.
AFC Bournemouth manger Eddie Howe walked into press room in a calm, casual manner. Despite his side's recent defeat to Cardiff, Howe displayed the kind of subtle confidence you would expect from a man who was positive of his abilities.
Behind Chelsea, the Cherries were the biggest spenders in the January transfer window, and this subject dominated the early parts of the conference.
When it first came up, Howe gave a wry and ironic smile which suggested: "Haven't you asked me enough questions about this?". He preceded to lament the fact that his team have been rather unlucky with injuries this season, and that the signings were necessary to finish the season strongly.
After this, the conference took on a more relaxed and mellow atmosphere, which seemed only fitting for the topic of meditation to be brought into the conversation.
It was mentioned that the Cherries' winger Ryan Fraser said that he liked to prepare for big games by meditating on Bournemouth beach. When asked if he also took such preparations, Howe said that he loved doing it and recommended it to everyone in attendance.
This statement was met with inquisitive smiles and laughter from reporters who came to the conference expecting to hear about tactics and player preparations, ahead of arguably his toughest game of the season.
This reaction preceded Howe then recommending the 'Calm' app for anyone who wanted to take him up on his offer.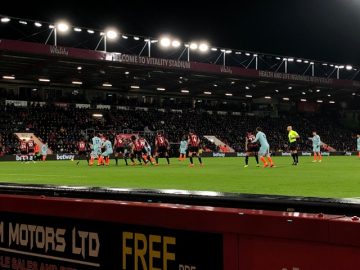 In reference to AFC Bournemouth's trip to Anfield, Howe mentioned his sides consistency problems, and how it has affected his side this season.
Howe told Buzz: "I think the Chelsea and Cardiff games epitomised an area in which we have to improve. The big high of Wednesday with the 4-0 win, to the low of the 2-0 defeat three days later."
This comes after the Cherries failed to reach the same intensity in their defeat Cardiff, after they thrashed Chelsea last week at the Vitality Stadium.
Howe added: "With the quality of teams in the league that can happen, but on too many occasions now. We have to put it right."
But a victory against Liverpool will be difficult to achieve. The Cherries have only won one of their seven Premier League encounters with Liverpool, and they are yet to win at Anfield in their history.
Recent injuries mean they will be without Callum Wilson and David Brooks along with long-term absentees Simon Francis and Lewis Cook.
Despite this, Howe is still confident his side can perform well tomorrow afternoon.
Howe continued: "The players have done really well to adapt. But missing David (Brooks) and Callum (Wilson), they're big players for us."
He added: "We were without Callum against Chelsea and we did very well. Now we're without David so it's up to the other players to step up and take their place."
New signing Dominic Solanke will hope to prove his worth as he looks to feature against his former club tomorrow.
Liverpool v AFC Bournemouth takes place at Anfield on Saturday 9th February at 3pm.