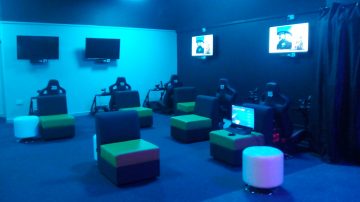 Centre VR has launched one of the biggest virtual reality arcades in the heart of Bournemouth. It is located on the first floor of the Richmond Gardens shopping centre.
The centre has industry-leading equipment, with a part of it being specially imported from the United States of America. The site has 30 virtual reality stations, where visitors can enjoy and play over two hundred different games. People can also play driving or flying simulators on the special gaming stations. The most popular game in the centre is currently Tower Tag. Tower Tag is a player vs player arcade shooter, where you can play against or with your friends to be the last player or team standing. It is an extremely popular game as it is physically engaging.
Louiisa, who is a supervisor at the centre commented:
"We do have a lot of demand in the area. We host a lot of parties, ranging from children birthdays to corporate parties. Many schools decide to bring students here as this is indeed an unique experience"
To better understand just how unique virtual reality is, I was given the opportunity to quite literally dive into its depths. With the virtual reality experience 'Into the blue' I was taken to the bottom of the ocean on a ship wreckage. From there I could observe the stunning beauty of the ocean floor and all of its marine inhabitants. The experience was so realistic that once a gigantic whale appeared I was shaken, this was a truly breath-taking look into the world of virtual reality.