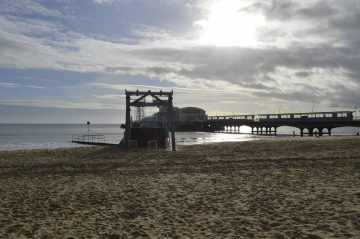 In 2008, there were 40 known individual seahorses found in Studland Bay but over the years, the number had declined to the extent where the area was suggested to be a marine conservation zone.
The protected spiny seahorse lives in Studland Bay for the summer but migrates to the deeper water of Poole bay for winter.
Worries for the seahorses come in as the oil rig being brought to Bournemouth by Corallian Energy might disrupt the seahorses' habitat.
Founder of The Seahorse Trust, Neil Garrick-Maidment, expressed his concerns to Buzz News and said: "The risk to the seahorses is quite huge actually.
"We have been in consultation with some senior oil specialists and they've worked quite a lot in America on oil rigs and they say that the type of rig that is being used for these explorative investigations is very prone to blowing.
"Even if it doesn't blow and oil leaks everywhere, it produces a lot of effluent and disturbance for the seahorses. Seahorses are quite fragile species and they are easily affected by disturbances particularly by noise.
"It will affect their hearing and their vision, and they will be moved out of their winter residence because of the noise which is a disaster because they need to be in the deeper water to be out of the storm and survive. It could be an environmental disaster.
"It's not only the seahorses in Poole Bay, but there are also the Undulate rays and oysters and if there is a blow, it will also affect the tourism industry."
An organisation called Save Our Shores has set up a protest on Bournemouth beach to try and delay and stop the oil rig coming here. Sara Pascoe from the organisation said: "If we can make it clear to the oil companies that we will make a fuss and that we could possibly even stall their installation of it.
"We were in contact with the government and putting in our legal reasoning why this shouldn't be done as there are protected species down here."
In a statement given to Buzz, Corallian Energy Limited said: "Corallian submitted a detailed Environment Statement to the Offshore Petroleum Regulator for Environment and Decommissioning (OPRED), which is part of the Department for Business, Energy and Industrial Strategy (BEIS), in support of the application."
In further discussion about the environmental assessment, I went down to Bournemouth beach earlier to see the view where the rig will be put into place and spoke further with Sara and Neil about their concerns about the project. You can listen to that here.
Where is the rig now?
It is just off the shore of Whitby currently and is aiming to be in Bournemouth by Monday to Wednesday next week.