In October, around 750,000 people marched through the streets of London demanding a people's vote on the terms of Brexit.
Since then, Parliament has voted down Theresa May's deal twice, and this week voted to delay Brexit by at least three months.
They also voted against a second referendum, although the majority of Parliament are People's Vote supporters, it was too early for this to be decided.
Dorset For Europe have been campaigning for another vote, or to revoke Article 50, since the referendum in 2016.
Street stalls can be found usually twice a week, one in Bournemouth and one in one of the surrounding towns such as Poole or Christchurch, and the group also have a large social media presence.
They provided coaches to take people to the march in London in October, and they are doing so again this Saturday (23 March) for the Put It To The People March.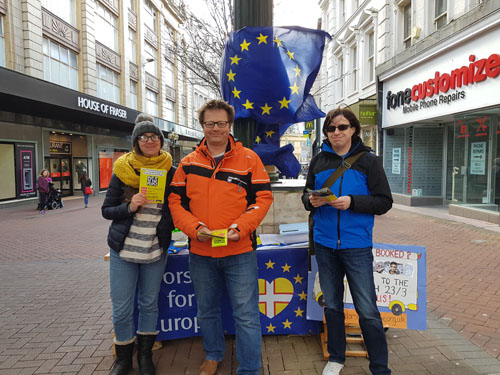 There were six coaches back in October, and now 12 coaches for this march, with many spaces subsidised for students and low wage people due to the generosity of donations from other supporters.
Tim Joyce, one of the founders and organisers of Dorset For Europe, describes this week's march as possibly "the last chance to stop Brexit".
He said: "I do believe we should be an open society that embraces our place in the world as an outward thinking nation.
"I don't believe in building barriers between us and the rest of the world."
Tim is an active part of the group's campaigning, helping out with the street stalls and the marches.
He added: "Personally, I find that campaigning actually reduces the stress associated with Brexit.
"It's a very stressful thing to consider how negative this would be for everyone in our country, in terms of jobs, the NHS, education, and just being on the street, talking to people helps me personally deal with that stress."
The terms of Brexit are still unknown as Theresa May continues to try to negotiate a deal with Brussels that works for everyone, so for some the future is very uncertain.
Helen Willcox, a retiree from Weymouth, has lived in France for 20 years, but is trying to sell the house abroad and move back to the UK before we leave the EU.
She was barred from voting in the referendum due to the 15 year rule, which she found upsetting, but she would have voted to remain, and now she is joining the march with Dorset For Europe.
On the results, she said: "It was the worst day of my life.
"I had been led to believe I was European, my husband had worked on joint projects with the French and Italian navies, we had bought a home in France, my mother and brother too.
"I could see that the UK was thriving in the EU, it was the most stupid thing a country has ever done to itself.
"I lived through Margaret Thatcher's rein when she destroyed the coal and steel industry, without replacing and insuring that the affected areas had good alternative jobs and lives.
"That was so wrong, and so is this."
People of all ages voted to remain, as they did leave.
Many young people were strongly against leaving the EU, and now, nearly three years after the referendum, more young people have become eligible to vote and have their voices heard.
Erin Hinton, a student from Bournemouth, managed to vote in 2016, and is now joining People's Vote in London to march for another referendum.
She said: "I believe that we are owed another referendum, and I think marching shows to the rest of Europe that we aren't happy to leave either.
"It may seem a little fruitless and not come to anything but at least I will feel as though I have done my part.
"Many of my friends do not have a British passport and I am concerned about the implications Brexit will have for them."
Although groups like Dorset For Europe and People's Vote do have a lot of supporters, some people are against a second referendum and just want Brexit to hurry up and happen.
Nigel Farage lead a small group of 'Leave Means Leave' supporters on a 'Brexit betrayal' march from Sunderland yesterday.
The group of Brexiteers is headed to London, demanding that the will of the people be upheld.
But it is now up to Parliament to think of the country's interests and make the decision.