When retired salesmen David Shorter booked a train ticket to London one November afternoon, he only intended to sketch the Thames. But fast forward two years later and after making his way around the south coast, David now sits on Dorset's golden beach, sketching Boscombe pier ahead of his quest to create his first ever exhibition.
It's exactly 12 pm on a warm February afternoon, the sun has just broken past the pier and Boscombe beach is already beginning to fill up. It's half term and families have made the trip to the popular beach to make the most of the rarity – the sun that is.
But amid the hustle, David's silhouette sits calmly hunched over on an old camping stool, its three legs dug deeply into the soft sand. Illuminated by the sun he has spent the week waiting for it to emerge from the clouds. The Sixty-Seven-year old balances a worn sketch pad and a watercolour pallet on his knees, not even the light breeze unsettle his strokes.
"This rarely happens," he said.
"Due to weather conditions, curious dogs, and vehicles parking in front of my subject, that is".
He flicked through his worn sketchpad to show the rest of his of his detailed sketches, careful not to drip the blue water coloured paint onto the sand beneath him.
"'Here you are, I don't want to move this too much because I've got to stop this paint from running," he said as he carefully navigated from one sketch to another.
David retired two years ago as a successful part-time salesman but spent most of his life as an architectural illustrator. Since his day out in London, David has sketched his way around the majority of the south coast with paintings from the Brighton Pier, Shirley Park and Afton Down.
"For me, there is nothing nicer than sitting on my own, totally absorbed in a painting.
"I wanted to do something interesting with my retirement, so I decided to find a cheap date going up to London on the train, and walk through the centre of London, through Greenwich and do a few sketches along the way but I didn't stop," he explained.
"I kept on going right down the themes and round the Isle of Self, round the Isle of Wight and now I'm here, heading towards Cornwall."
Sitting on the beach accompanied only by a small packed lunch he had prepared earlier that morning, David focuses on framing Boscombe pier, the subject of his next sketch that he aims to be part of his first exhibition.
"I have given some thought to this and would like to present the studio paintings with the sketches with a short story about them. Preferably folklore, or my experiences, and amusing" he said.
"I've done about 330 sketches, some just in pencil or ink and some in watercolour and there are also a few thousand photos, It's my journey presented through sketches really".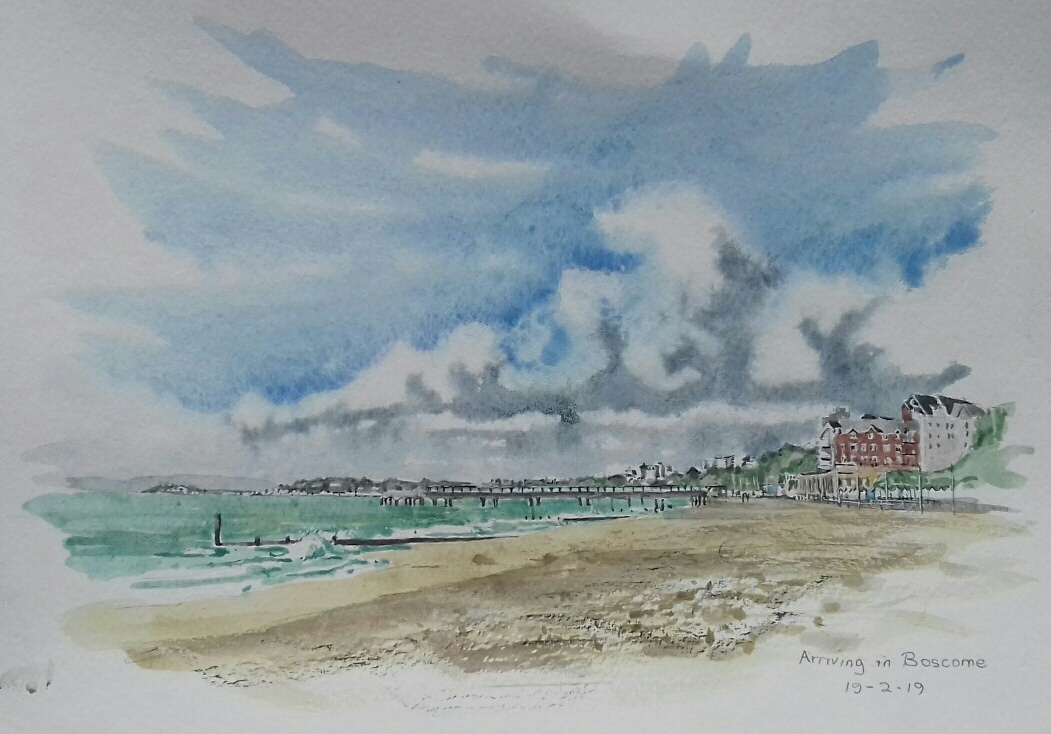 David has already drafted out the section of the Thames from his sketchbook where he began his journey as a trail for his exhibition, along with his 330 other paintings which he will use to make up his exhibition, but his adventure doesn't end there.
"My final destination for the moment is Lands End, but I will probably continue for as long as I can, ideally back to London," he said.
"For me, there is nothing nicer than sitting on my own, totally absorbed in a painting.
"I'm just going along, watching the weather and if it is a nice day I get up and go".
As the sun returns to its haven of the horizon, he runs his thin brush over his painting with a delicate hand, putting the final touches to his 331st sketch. David has no plans to profit from his exhibit but instead wants others to reflect on his journey just as he does.