Dorset Police claimed today that Dorset roads are the safest they have ever been.
Data figures showed the amount of people killed or seriously injured in road traffic accidents has declined over the years. In 2012, 355 people were killed or seriously injured on the roads, however in 2018 that figure has steadily fallen to 239 (to be confirmed).
Dorset Police claim that the county has some of the most dangerous roads in the UK and regularly records some of the highest numbers of serious collisions.
Chief Constable James Vaughan, Police and Crime Commissioner, commended the hard work put in by Dorset services, saying:
"This is an excellent result and vindication of the planning, targeted intelligence led policing and effective allocation of resources and funding that goes into road policing every year.  It's also a suitable reflection of the hard work and professionalism the officers in our No Excuse and Alliance Roads Policing teams have shown."
The 'No Excuse' campaign launched in 2010 and aims to crack down on drivers committing any of the 'fatal five';
The team is made up of a sergeant, six police constables, two police staff inquiry officers and is supported by special constables. Dorset Police publish where the 'No Excuse' team and the Safety Camera teams are based each day on Twitter, Facebook and the Dorset Police website.
A survey conducted by Dorset Police has shown that almost 90% of the county know the campaign and support the aim to make Dorset roads safer for drivers, cyclists, pedestrians and children.
Within the first year of the campaign, the team saw a significant decrease in the number of motorists not wearing seatbelts – with the amount of offences dropping by 36% from 3,237 to 2,055 cases.
In December 2018, a number of offences were caught by the 'No Excuse' team, as seen in the infographic below.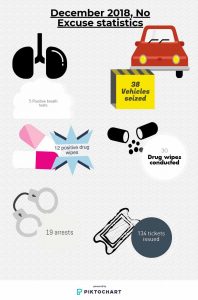 Although there are still a variety of offences being committed, Brian Austin, 'No Excuse' Project Manager, felt positive about the recorded statistics, saying:
"I am greatly encouraged by the decrease in the overall number of offences that we are processing. I hope this reduction in offences shows that drivers are now paying more consideration to their driving habits and respecting other road users."
A spokesperson for Dorset Police said they hope the 'No Excuse' campaign will continue to prosecute negligent drivers and make people think about the quality and safety of their driving.
Anelga Pooley, who is a keen cyclist spoke about whether she had seen any visible improvements on the roads. You can listen to her thoughts below.
Here are some shocking videos of road traffic collisions and dangerous driving that have been documented by Dorset Traffic Cops in the past couple of years.
Warning – Some people may find this video upsetting. Whilst a lot of our work is around the standards of driving, sometimes, we need to offer advice to other people. If you are a pedestrian, please consider where you cross the road, especially if there are large vehicles around. Be mindful that you might not be easily seen by the driver. If there is a designated crossing point, our advice would be to use it. Thankfully in this incident, no-one was seriously hurt, but it could have been so much more serious.

Posted by Dorset Traffic Cops on Thursday, 20 December 2018
WARNING – Some viewers may find this video distressing. The mum of this 4 year old child wanted to release this video to highlight how quickly an incident can happen involving your child. The boy, whom only sustained minor injuries was waiting to cross the road at a pedestrian crossing with two other children and a parent. A cyclist, who was also waiting to cross, chose to take a gap in the traffic. The child followed the cyclist and was struck by an oncoming vehicle.If you're at a crossing and small children are alongside you, please consider your actions, as a child may think it's safe to walk into the road. No blame is attached to the driver of the car.

Posted by Dorset Traffic Cops on Sunday, 20 August 2017
The rider of this motorcycle was lucky not to be more seriously injured after riding in the manner he was. He sustained a broken leg but fortunately did not go beneath the lorry. If you're on a motorcycle, ride carefully, within the speed limits and ride with consideration to other road users.

Posted by Dorset Traffic Cops on Friday, 4 August 2017