AFC Bournemouth's first team goalkeeper visited Care South's Wickmeads care home, in Tuckton, Dorset.
On the 16th of January, Aaron Ramsdale joined residents and staff at Wickmeads for an afternoon of activities, fun and socialising.
The Cherries shot-stopper has been named as an ambassador for Care South.
Care South provide care services across the South of England. They offer a full range of care services for people of all ages: from young people who need temporary help with everyday life, to older people in need of full time care.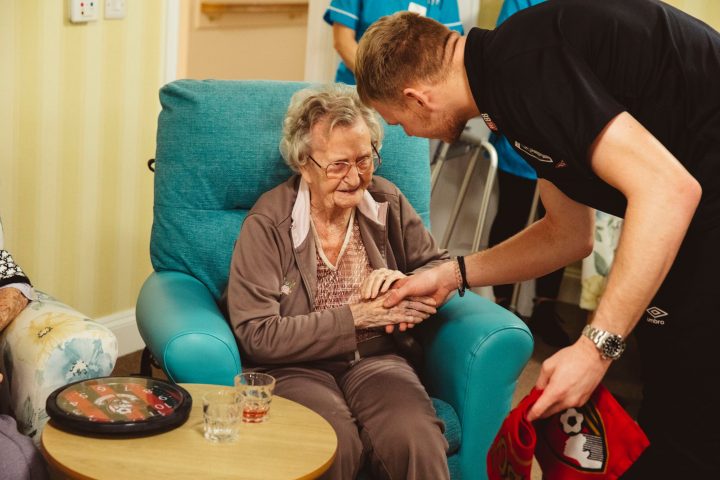 During the afternoon of games at Wickmeads, residents kept 21-year-old Aaron on his toes, while there were prizes given out and he signed memorabilia, including photos for new home manager, Tracey Walker.
Tracey said: "It was a pleasure to welcome Aaron to Wickmeads, and the residents really appreciated his time.
"I'd particularly like to thank Aaron for spending so much time with Cherries dan Desmond, who was keen to discuss the club's recent form."
Aaron added: "It was great fun to come out and play a few games with the residents.
"We were all having a bit of a laugh and a joke.
"Desmond, he's a good player. He's 96 and he's given stats even I didn't know."
Speaking during Aaron's visit to Wickmeads, Care South's Chief Executive, Simon Bird, said: "Care South is delighted with this project, which bridges the generation gap and provides meaningful and stimulating activities and engagement to our residents.
"This is Aaron's first visit as our ambassador and it is nice to see how popular he is with residents and staff already."
Photos from Care South.
For more information, visit www.care-south.co.uk or call 01202 712400.