The AFC Bournemouth assistant first team  coach has launched a charity appeal at Royal Bournemouth Hospital.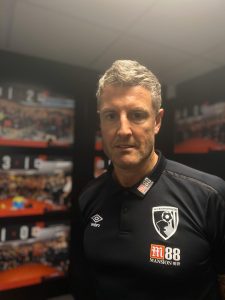 Steve Fletcher joined the fundraiser to raise money for a £365,000 Walkerbot machine.
The machine is designed to help rehabilitate patients who have suffered from a stroke or neuro trauma.
Mr Fletcher said: "With the Walkerbot, you're up on your feet in a quick time scale and this machine can do a thousand steps with one person working the machine as apposed to four or five physiotherapists doing a hundred steps with the patients.
"It also takes weight off the patient's legs so it's going to be much quicker, much easier and much more adaptable. It's revolutionary, it's something that will change people's lives."
Each year over 720 people are admitted to the Royal Bournemouth Hospital with stroke and 75% of these have lower limb weakness.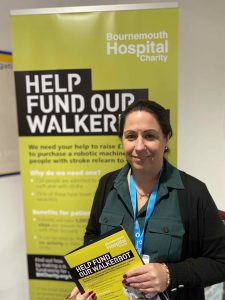 Karen Smith, fundraising manager at Bournemouth Hospital Charity said: "We've set ourselves a target of 18 months to raise £365,000 that is needed for the actual equipment, the instillation and the training that is associated with allowing our staff to be fully operational."
Two main charity events Ben Nevis and a Solent Swim will take place in order to raise money.
You can also donate on the Royal Bournemouth Hospital Website : https://www.bhcharity.org/walkerbot/
Here is our full interview with Steve Fletcher: https://www.youtube.com/watch?v=-7oy4dl2Og4&feature=youtu.be