Bournemouth University students were today celebrating TEN Oscar nomination for World War One epic 1917, including Best Picture.
James 'Monty' McPhee and Paul Tregunna, both BA Multimedia Journalism students, starred as extras in the World War 1 based movie last Summer. The students were among hundreds of extras filmed on Salisbury Plain where a battlefield was re-created.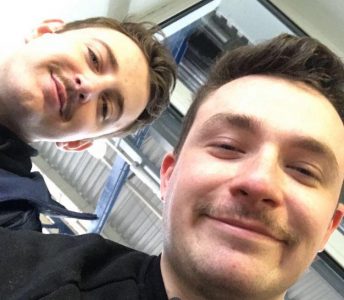 When hearing that the movie had potential for a nomination, Monty said: "I was absolutely ecstatic, I didn't know whether to clap or cry.
"The idea of [the film] getting an Oscar is absolutely incredible."
Both students attended the film's Supporting Artists VIP premiere prior to the film going on public release on Friday 10th.
The Oscar nominations were released at 1:18 GMT today. 1917 has been nominated for Sound Mixing, Sound Editing, Original Score, Best Production, Cinematography, Visual Effects, Make up and Hair Styling, Original Screen Play, Directing (Sam Mendes), Best Picture.
1917, directed, co-written and produced by Sam Mendes, tells the story of two soldiers who attempt to avert a disaster for British troops on the Western Front. Its star cast includes George MacKay, Benedict Cumberbatch and Colin Firth.
Castings were held at Salisbury City Hall earlier this year.
The film has already won Best Motion Picture for Drama at the 77th Golden Globe Awards; it also won Best Director at the British Academy Film Awards.