Three independent music venues in Bournemouth will be showcasing up-and-coming musical talent as part of Independent Venue Week.
The week-long celebration, taking place from 27 January to 2 February, aims to champion independent music venues and rising musical and comedic talent.
More than 200 independent venues across the country have joined the initiative and will be holding events to promote local artists.
Bournemouth venues taking part in the event include Sixty Million Postcards, The Anvil and The Old Fire Station.
Tor Byrnes is the South West Regional Manager for Independent Venue Week, the owner of We Broke Free, and organised the events taking place across the Bournemouth venues.
She told Buzz: "Independent venue week is a week that focuses on small or grassroots venues and is just about trying to get people to go back into those venues to see how bands start out and the very beginnings of them.
"To me it just means you get to see things first and you get to see the start of bands and people getting to hone their skills."
She continued: "Independent venue week isn't an indie thing, it covers all genres.
"It's not about the music per say, it's about getting people within these venues to keep these grassroots venues alive."
Bournemouth has a long standing connection with showing famous talent early on in their careers; Grammy award winner, Ed Sheeran performed at The Old Fire Station in 2011, indie-pop artist Tom Grennan also played the same venue in 2017.
Sixty Million Postcards also boasts a mural of famous names to have graced their stage, including Blossoms, Foals and Wolf Alice.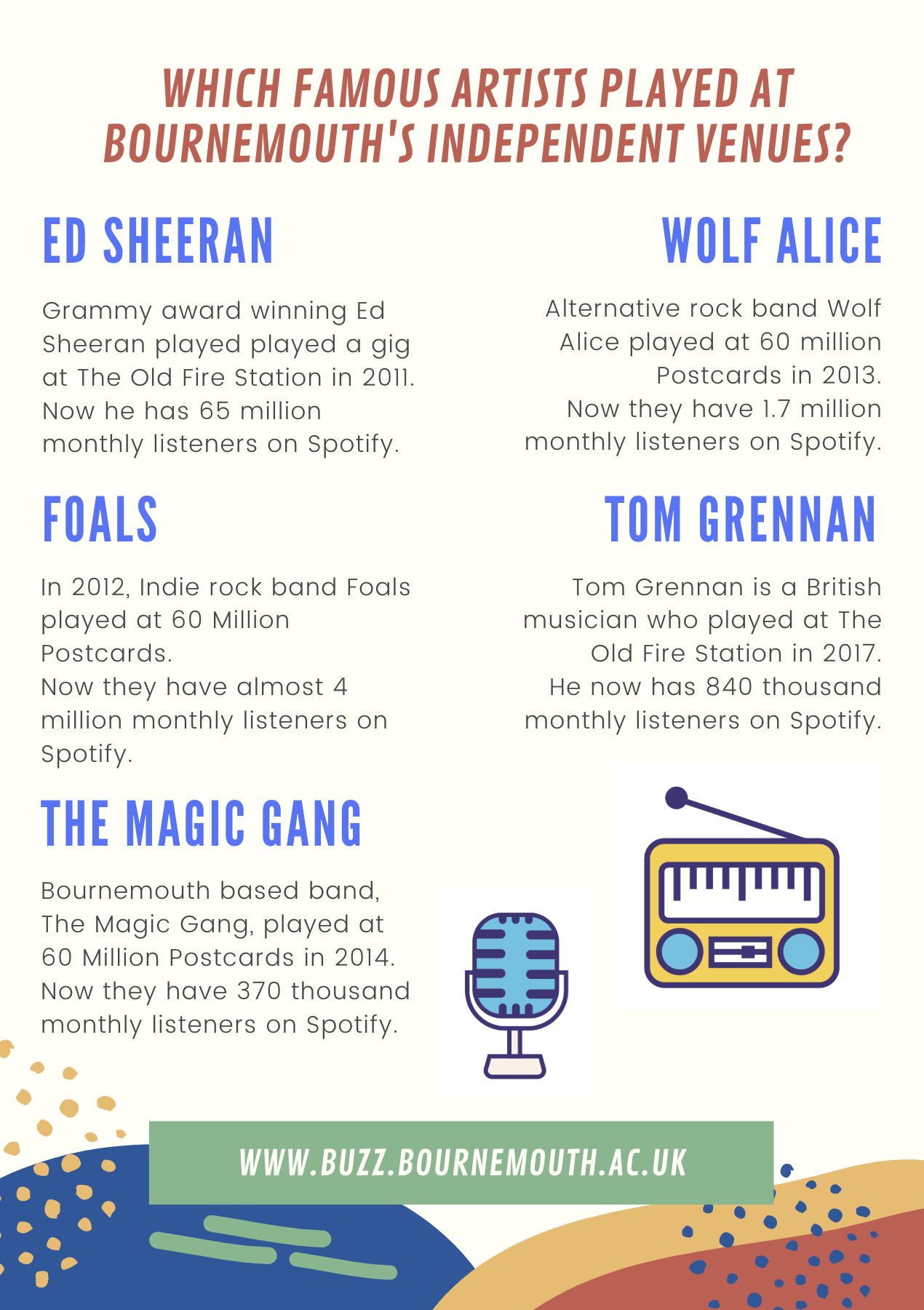 Talking about the importance of independent venues for bands at the start of their careers, Tor said: "It's great for them to be in a small venue so they can really connect with the crowd.
"A lot of people at this level will do their show and probably do their own merchandise. And there may not be a greenroom so you'll sit beforehand and have your dinner and have a drink, and get to chat to your fans and get to know them.
"You just don't get that once you get to the big stadiums – you miss out on it whereas we're all together in this and building a community."
For more information visit.