A hospice in Poole has been bringing memories to life in a workshop in which clothes of deceased family members are made into teddy bears.
Forest Holme Hospice in Poole is hosting the three week course in which items of sentimental value will be weaved with other fabrics into cuddly toys – a physical keep safe intended to cherish the memory of a family member passed on.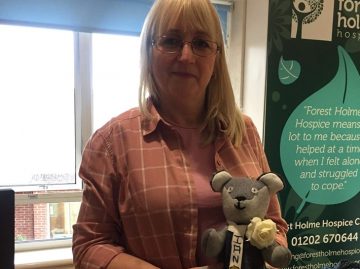 Maria Morton lost her husband Ian four months ago and made a bear from his two dressing gowns and a pair of pyjama bottoms. The bear also contains his ashes.
Maria told BUzz: "This is where I lost my husband, he actually died here."
"It helped me (grieving) as I was alone sewing at night, watching the tele and feeling calm and productive. I feel like otherwise I would be sitting there crying, it's just been helping that's all."
Work shop participants will be provided with a special step-by-step guide, as well as tea or coffee and biscuits at each workshop.
The course takes place on Fridays January 24, 31 & February 7 2020 between 10am-1pm in The Coldwell Room at Forest Holme Hospice.
The cost of the course is £30 per person and the workshops are limited to 10 people max.