State schools across the UK will now have the ability to order free sanitary products for their students.
This comes as as part of a scheme to end period poverty set by the government.
Dorset's state-funded schools will now receive a set amount of money to spend on tampons, sanitary towels, and menstrual cups from supplier Phs Group.
The government set up the scheme in an attempt to tackle period poverty in schools. Many young people who do not have access to period products are more likely to miss days at school.
Poole High School's Student Welfare Officer, Phillipa Rolle, explained that this is their third scheme to help end period poverty: "I feel that it is a shame that we are getting so much access and there are schools that may need it more than us.
"All the schools will take it up of course, they would be silly not to.
"We are trying to be open about periods and I think that this scheme will further enforce that."
Campaigners have advised local schools that if they do not opt in, they will be putting their students at a disadvantage.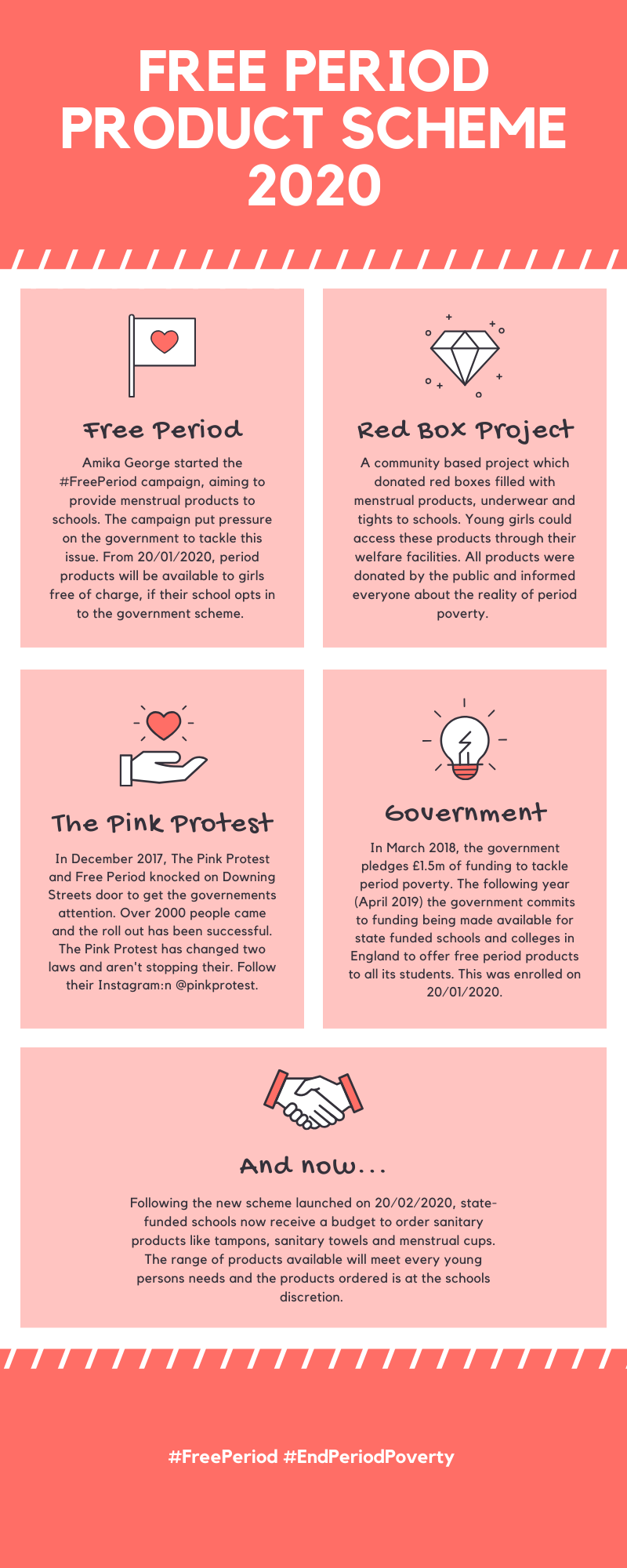 A similar scheme has already been rolled out in Scotland and this will mirror that. The government will be giving each school a set amount of money to spend on products in 2020 – calculated on the basis that 35% of pupils who menstruate will use them.
Schools have to opt into the scheme and will have access to a range of products at different prices if they do meaning it is the schools discretion on what they spend their budget on.
Ms Rolle added: "I don't want any of my students to feel embarrassed or that they can't talk to me.
"It is an interesting thing to think about and we need to think of the correct way to roll it out in a way which works for us and works for the pupils."
It follows the government's announcement last March that it would fund period products for secondary school and college students, which was later extended to primary schools too.
Amika George started the campaign to get free period products into schools three years ago. She has now teamed up with charity 'Red Box Project' who provide the little extras that girls might need, like spare underwear or new tights. This is all funded through public donations and has been around in local schools since 2017.
We're absolutely thrilled every school/college in England can order free period products – from Monday!

We've teamed up with @RedBoxProject to urge everyone to join the #PeriodRevolution!

More details here: https://t.co/L7xF1FNaPT#FreePeriods#RedBoxProject pic.twitter.com/usuR4wYk26

— Free Periods (@AmikaGeorge) January 18, 2020
The pair have taken to social media to urge people to join the #PeriodRevolution.
Children and Families Minister Michelle Donelan said on the government website: "We know that it is not easy for everyone to access period products where and when they need them."
This new scheme also forms part of the department's ambition to improve provision of products for young people, helping to support campaigns to break the stigma around periods and raise awareness of menstruation.
The MP added: "This scheme will deal with those problems so young people can go about their daily lives without getting caught out if they have come on their period unexpectedly, forgotten to bring products with them or if they can't afford the products they need."