?Eddie Howe had a dream ?
If you've ever been to a Bournemouth game you'll be no stranger to the bellowing of fans proudly singing their managers name.
In 2009, Howe miraculously led the club to survival in League Two despite being faced with a 17-point deduction at the bottom of the table.
Just a year later, the Cherries achieved promotion to League One in April following a 2-0 victory away to Burton Albion.
And, while it seems he has been at Bournemouth for an eternity, Howe actually left the club to manage Burnley – only to return to the club a year later.
On his return to AFC Bournemouth, Howe's successes continued as – in 2013 – he took his side to the Championship finishing runners up only to Doncaster.
In 2015, six years on from that magnificent season in League Two, Eddie Howe led Bournemouth to the title and secured promotion to the top tier of English football.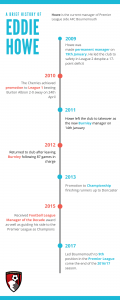 A manager steeped in history with the club, he led them to make the impossible become possible.
But just how far can loyalty take Bournemouth in the Premier League?
Currently in 19th with just 20 points after 22 games, Eddie Howe has finally been woken from his dream to find his club living in a relegation nightmare.
Five clubs in the last five seasons have managed to avoid the drop from the same position Bournemouth find themselves in, that didn't come without managerial sacrifices.
So what do the fans think?
We asked #AFCBournemouth fans about what they think the future holds for #EddieHowe as the club enters the relegation zone: pic.twitter.com/brVSJ4kUjB

— Buzz News (@buzz_bmth) January 13, 2020
While many continue to back Howe as the man to rescue Bournemouth from impending relegation, fans on Twitter weren't so forthcoming.
Time will tell whether or not Eddie Howe can somehow turn this around, but it could be one too many points dropped to save him this time.
For more sports news tune in at 4pm for the Buzz radio bulletin, and at 4:15pm for the TV bulletin.