Local writer Darren Wells has launched the promotion of 'Blue as the Sky' in Bournemouth town centre over the weekend.
Crowds gathered to watch the cheerleading group 'Revolution Cheerleading Academy' promote the film in The Square on Saturday 7th March.
Speaking at the event 50-year-old Wells  said: "Two of my daughters go cheerleading, which is really the idea of combining the two.
"They love dancing and it was a good way to promote the movie, in a way that was different".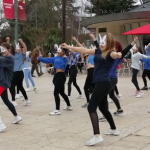 The movie explores his personal story of epilepsy bereavement, following the death of his late girlfriend in 2007, which escalated his OCD.
He said: "Normally I'm absolutely fine, but losing her made my OCD horrible, out of control even.
"But rather than be one of those scary people in the corner at parties, that no-one wants to talk to, I wrote a book which is now becoming a film."
The boy-meets-girl love story aims to tackle the somewhat under-discussed mental health disorder, with a heavy focus on overcoming the obstacles of the illness.
'Blue as the Sky' has been produced with close support from charities such as 'OCDUK'.
Chief Executive, Ashley Fulwood founded the charity in 2004 after struggling to find existing support networks to manage his own OCD.
Fulwood said: "The thing that makes OCD UK unique is that all of our volunteers and support workers have all been affected by OCD.
"Whilst OCD affects people differently, we all share that same intense feeling of anxiety and intrusive thoughts."
22-year-old Megan Bennett, of Bournemouth, was at the promotional event of the upcoming film and supported the cause as an OCD sufferer herself.
The Topical Television employee detailed how debilitating the disorder can be, and how her obsession with cleanliness became 'out of control' when she went to university.
With support from the likes of James Buckley (The Inbetweeners), the film's cast will star alongside a symbolic rabbit.
Wells, who has lived in Bournemouth his whole life, said: "My girlfriend had a rabbit and when she died, I took it on.
"I often found myself sitting there with the rabbit curled up on me just talking to him.
"So, it meant a lot to include the rabbit."
The father of five is confident that the movie is on track to premiere on 10th October 2020, marking World Mental Health Day.
He added: "It is bigger than me now and that's a really good place for me to be in."