The number of cases of potential victims of modern slavery across the UK has increased by more than 50%.
The National Referral Mechanism (NRM) has found that 10,627 potential victims of modern slavery were referred to the system in 2019, up 52% from 2018. 
Of those referrals, 66.7% claimed that the exploitation took place in the UK, 26% said it was overseas and for 7.3% the location was unknown.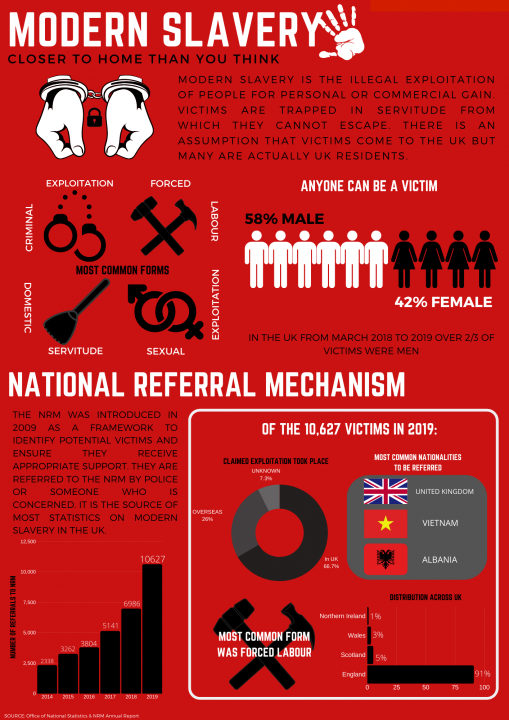 The most common nationalities to be referred to the NRM, the official system through which victims of modern slavery are identified and assisted, were UK, Vietnamese and Albanian.
Modern slavery is the illegal exploitation of people for personal or commercial gain and it includes criminal exploitation, forced labour, sexual exploitation and domestic servitude.
Across the UK 91% of the referrals were in England, 5% in Scotland, 3% in Wales and 1% in Northern Ireland, the most common form of exploitation was forced labour.
On a global scale, the Global Slavery Index 2018, found that North Korea had the highest prevalence of modern slavery with 104.6 per 1,000 citizens, followed by Eritrea with 93 and Burundi with 40.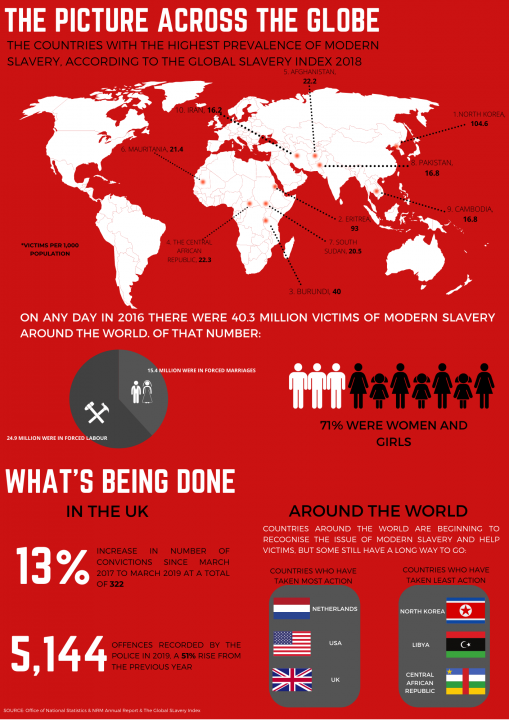 In 2016, on any day, there were 40.3 million victims of modern slavery around the world and of that 71% were women and girls, 15.4 million were in forced marriages and 24.9 million were forced into labour. 
The UK is now the first country to publish a government modern slavery statement, which sets out how the government is dealing with the issue, with individual ministerial departments set to begin publishing their own from 2021. 
Prime Minister Boris Johnson writes: "As a government we don't have to produce this statement. But we want to. Because the brutal truth is that modern slavery will endure only as long as it is profitable for the criminals – and it will only remain profitable as long as businesses and governments are prepared to look the other way."
The Office of National Statistics has revealed that there has been a 13% increase in convictions from March 2017 to March 2019, a total of 322, meanwhile over five thousand offences were recorded by the police in 2019 which is a 51% rise from 2018.