The Children's Services report, prepared for councillors and seen by Buzz, outlines how fewer than 15 students are studying on some school courses.
The term Level 3 refers to a range of qualifications including A Levels, Access to Higher Education Diplomas, Advanced Apprenticeships and Level 3 Diplomas. UK law requires people to study until the age of 18, but many are now studying for other vocational qualifications.
The report also reveals 11 school courses are running with fewer than 10 students; a viable course number is over 15 students to keep courses and A Level subjects running in the BCP area.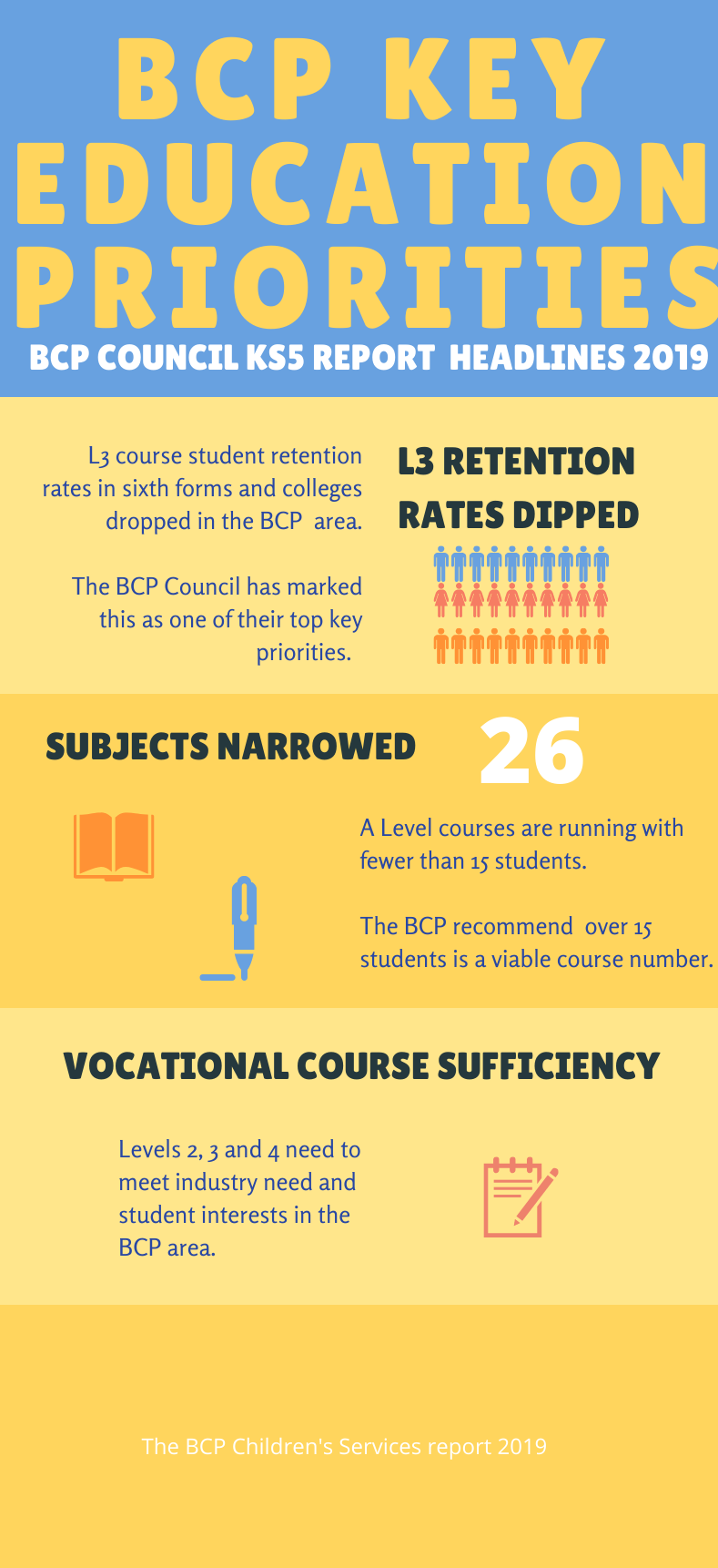 But some Bournemouth parents of secondary school and sixth form students had different concerns.
Russel and Fasun Bowyer, parents of a sixth form student from Charminster said: "We don't like sixth forms, they are always thinking about money and run it like a business. Education is much more than academic achievement, they should be able to express themselves through subjects."
Janet and Mark Lawrence, also parents of a sixth form student from Bournemouth said more money should be  invested in schools. They said: "Every child should have a right to education, every school has a right for funding and support for the children's futures."
Councillor Peter Hall, a member of the Children's Services Overview and Scrutiny committee, has concern over the below average retention rates. He said: "We need to figure out why the rates are falling and take action.
We have some top-grade schools in Bournemouth, it just depends on the cohort of students, which changes from year to year."
Bournemouth is now home to over 20 secondary schools and colleges providing Level 3 schooling.
The BCP report confirmed that there are too many small sixth forms "offering a limited number of courses and with a very narrow focus", marking this issue as top priority for the Council.
The performance rates for students in the BCP area have nonetheless excelled even though there is a lack of subject areas in sixth forms claimed Councillor Hall.
Government funding for pupils aged 16 – 19 is calculated by the number of students enrolled into the sixth form or college course, which balances the core programme funding for the whole year.
Students continuous enrolling into schools and colleges offers vital funding for departments, especially sixth forms to then expand their subject areas.
The Children's Services Overview and Scrutiny committee vice president, Lisa Lewis stated that she is not happy about the Governments Education Policy. She said: "must invest more money in schools for subjects and the rewards from students will come from it."
But, a trend for people to take a more 'linear, traditional' approach to higher education through a Level 3 path has been broken, as more students lean toward apprenticeships rather than A levels or equivalent, stated Julia Coleman, BCP Council Service Manager for School and Provider Standards and Support.
Headmaster of Bournemouth School, Dr Dorian Lewis, explained that BCP Council are pushing schools to offer more vocational courses currently than for sixth formers. He said: "These are often more costly to run and do not have the prestige of A Levels."
But Cllr Hall stated that the BCP area "needs apprentices who study vocational courses for industry as well as level 3".
He added: "We continue to be amazed by the quality of work coming from sixth forms and colleges."
Are you aged 16-19 and know about this? Get in contact with Buzz if you study a Level 3 course.#bournemouth #BCP #student pic.twitter.com/uulgb0IhRo

— Buzz News (@buzz_bmth) January 30, 2020
Article by Melissa Spence