What has always been the historical coastal town we know will soon become an exhibition of vibrant blooms as the community of Christchurch is brought together by FlowerFest19.
The parade of colour we will see throughout the town was all started by qualified florist Glenda Stansbury, the founder of this inclusive summer event, to be held over 14th-16th June this year.
She spotted an opportunity to pull local shops, charities and businesses in Christchurch together when on holiday abroad. "I knew of an annual flower festival over in Girona in Spain, it's grown year on year and I was going around and I thought gosh, this could so work for Christchurch" Glenda said.
This year marks the second ever FlowerFest after FlowerFest18 received "100% positive feedback" from feedback forms given to those who visited.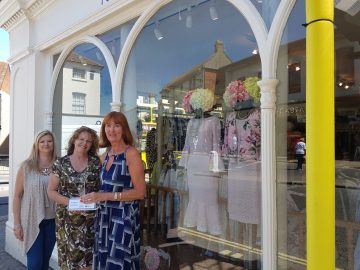 The event provides everyone in the community who wants to get involved the chance to produce a floral representation of who they are to be showcased around the town – "it's not just companies, it's flower clubs, church groups, brownies and schools" Glena said.
Glenda prides herself in her strap line "We all need TLC and together we link the community", which is another of her motives behind the festival.
I wanted to do something that promoted the benefit of being outdoors with everybody's mental health"
During the initial process of ideas, Glenda's family became another reason to put her thoughts into action. "At that time, one of my children was suffering with a mental health illness, so I wanted to do something that promoted the benefit of being outdoors with everybody's mental health" , Glenda said.
Her idea soon blossomed into a reality and her team will this year be representing MacMillan Caring Locally who are trying to fund a new unit at Christchurch Hospital for palliative care. FlowerFest will be helping to promote and support this, with the new build hoping to include a peaceful garden space.
Glenda said: "At the moment they've got a garden but there's not much privacy, part of their new garden design is to have almost partitioned areas of garden so patients who are suffering and their families and friends can just have some quiet space."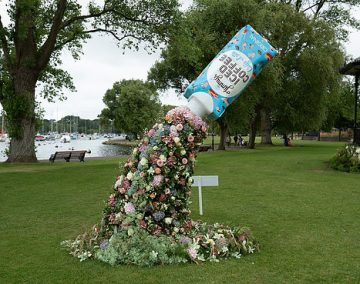 The competitive side to the festival saw last year's winner for 'Best Display' Jimmy's Iced Coffee create a delicate arrangement of flowers by the quay, which "really helped set the benchmark for people just to think slightly differently about their company".
It works by a group sponsoring an area and using flowers as a creative form of advertising, which pulls the neighbourhood together to create something plentiful for the wider community. All groups in Christchurch and surrounding areas are encouraged to get involved with the event this year, which can be done via their website.
The weekend offers a time to engage with the benefits of being outside and unwind with the intricate displays dotted around Christchurch. The floral pieces form a path to be followed, which leads all around the Priory grounds, by the bandstand and Quomps area.