Bournemouth FC came back from 2-0 down to dramatically win on penalties over Blackfield & Langley, to progress to the 1st Round proper of the FA Vase.
In a breathless game, Blackfield & Langley scored twice before half-time, following a nasty incident which saw Poppie's Jamie Wilson and Blackfield's Flavio Tavarez both sent off.
Poppies incredibly came back with a header from Jonathan Efedje and a late penalty from Lewis Harvey to force a shootout.
In the penalty shootout, Sam Jones was the hero of the hour, denying Harry Cooper to send the players and fans into furious celebrations.
Before this encounter Bournemouth had got back to winning ways in the league by defeating Amesbury Town 2-0 on Tuesday Night.
That positive feeling was taken into this FA Vase 2nd Qualifying Round, when they made a strong start.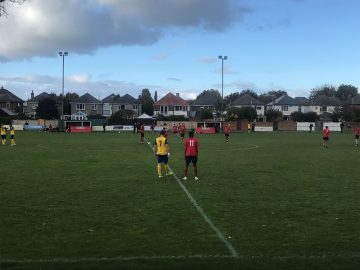 A free-kick sent in by Dan Seymour was held up by Lewis Harvey, allowing Jamie Trimble to have a shot, but it was cleared off the line.
Wilson then struck from distance just a minute later, which forced Blackfield keeper Harrison Guscott to get down to make an impressive save.
The Watersiders then slowly started to apply pressure to the Bournemouth defence, with the tricky Tavarez causing plenty of problems on the left flank with his quick turn of pace and deft ball control.
Jones made a marvellous save to keep Bournemouth on level terms on 23 minutes, whilst Fatah Mahkloufi saw his shot go just wide of the post.
Just after the 30 minute mark the game took a nasty turn, as Wilson and Tavarez fell to the floor with both appearing to have their hands around the other's neck. Both were understandably sent-off.
Blackfield & Langley were able to readjust themselves quickest after that commotion, as they took the lead in the next passage of play.
Poppies Keeper Jones kicked the ball against his own defender, allowing River Smith to get round him and slot home into an empty net.
Just two minutes later, and the Watersiders doubled their lead. Ali Zintany was allowed to advance on goal, and hit a smart finish into the bottom corner.
In the second half the game opened up, no doubt benefited by the added space left by having two less players on the pitch.
Jones did superbly to parry a powerful strike from Mahkloufi, whilst Jame Trimble had an effort hacked away by a defender after beating the keeper.
B&L captain Edward Orvis was the next player to be denied by Jones, with his lobbed shot being tipped over. The defender then stopped substitute Max Norrish from pulling one back, clearing his shot off the line.
B&L then should have arguably had the game out of sight as Fawzi Saadi's free-kick from near the touchline was tipped onto the bar from Jones.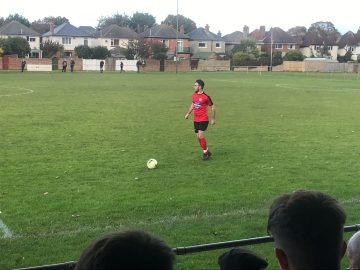 It had by all accounts been a frustrating half for Poppies, as they had spurned numerous chances and it seemed like the opportunity of getting something from the game was slipping away.
However, on 77 minutes their fortune started to take a turn.
A free-kick was flicked on by Efedje over Guscott and couldn't be prevented from being cleared off the line for once by a B&L defender. Poppies had a goal back.
Bournemouth had the initiative and it paid off on 85 minutes.
Efedje was brought down for a penalty, which Lewis Harvey struck straight down the middle to spark wild celebrations.
All the hard work yielded penalties. After Jones had saved from Josh Taylor, and Luke Bennett had skied his penalty it was down to Efedje to win it.
Agonisingly Guscott guessed correctly, and Saadi scored the next one to bring it to sudden death.
The following three penalties were converted, leaving it to Harry Cooper to keep B&L in the competition. Jones superbly denied him though, leading to rapturous celebrations, and a place in the 1st Round of the FA Vase.
The 31st of October will see the Poppies play next in the competition,
Poppies XI: Jones, Seymour, Proudley, Nicholls (C), L.Harvey, J.Harvey, Schaller, Trimble, Warren, Wilson (Sent off 35′), Efedje
Subs: Kowalczyk, Chambers, Martins, Carvalho, Norrish