Mrs Sheena Dayman, Events Manager for YMCA, said: "Our focus and passion is to ensure that upon moving-on each individual has the skills, confidence and self-belief that will enable them to positively contribute to society.
"We want everyone to be safe, to be positive and to thrive."
This charity has prevented more than 200 additional people ending up on the streets in Bournemouth, Poole and Christchurch, providing individually tailored one-to-one support.
Upcoming events from the YMCA are the Movie Night playing "Same Kind of Different as Me", and the Big Sleep Easy Challenge, an event to promote the reality of homelessness amongst business people and students, taking place over the last three years.
The Big Sleep Easy Challenge has spread throughout the years to 150 business people taking part, representing 40 businesses in 2019, raising a total of £40,000.
This year's event took place in their gardens as 35 people raised £12,500.
Through the YMCA, St Edwards School in Bournemouth participated in the Big Sleep Easy Challenge, which supports YMCA's mission of changing people's lives.
Lead by Andy Elliott, Director of Learning for Sixth Form, the students responded enthusiastically with fifteen students agreeing to sleep in their gardens.
With YMCA's sponsors, St Edwards School raised £1500 for charity.
Ms Sheena Dayman added: ""This [homelessness] is a challenge we gladly accept and meet face on."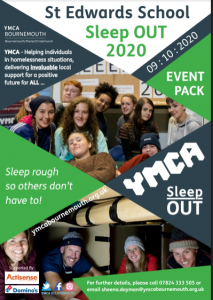 To participate and donate in the Big Sleep Easy Challenge, as well as YMCA's efforts to decrease homelessness, visit their website.
Read More
A Better Future: Homelessness decreases in Bournemouth and Poole