HUNDREDS of spectators turned out for a fireworks extravaganza in the grounds of Sixways Stadium in Worcester on the eve of the second national lockdown.
The planned social distanced drive-in display was brought forward from November 7 as the new lockdown rules would have prevented the display going ahead on the original date.
Paul Blton, spokesman for Sixways Stadium, said: "We are sending everyone off into lockdown with a bang!"
Video below taken by one of our reporters on the night with social distancing in place
Gridlocked roads
Roads near to the stadium were at near standstill on Wednesday evening, with cars hooting their horns in appreciation as a community came together as one while maintaining strict social distancing aid the pandemic.
Families stayed within their 'bubble' either inside their cars or to the right hand side if standing outside, to adhere to social distancing measures put in place by event organisers, which also included no sale of food and drink.
The air was filled with not just gunpowder but the cheers of delighted kids as each firework lit up the sky in flashes of colour.
We previously reported on the annual event being cancelled for the first time in 15 years on the walk-in event being cancelled for the first time in 15 years and the drive-in  was scheduled because of popular demand.
Covid restrictions meant that many other fireworks events were cancelled in Worcestershire, with some skilled pyrotechnics show-runners reporting a 90% drop in turnover – however sales of fireworks to be used at home broke 1000%.
Steve Raper, chairman of the British Fireworks Association (BFA) which represents retailers, said those same curbs had driven "a massive spike in sales" as part of a shift to "back-garden displays".
He also sounded a health and safety warning to people turning to online retailers to get fireworks, which might even be illegal under the UK's tight explosives regulations.
Mr Raper, a consultant with Bright Star Fireworks, in Melmerby, North Yorkshire, said more people seemed to be buying the "traditional box of fireworks".
The rise in sales started as soon as the UK's autumn fireworks season began on October 15 and the relaxation of sales licensing rules, he added.
Mr Raper said there had been a "robust start" to trade, with people "letting their hair down" and keen to mark Bonfire Night and Diwali, the Indian festival of lights on November 14.
He said the Government negotiations last month around Greater Manchester's earlier Tier 3 restrictions, and Wales's firebreak lockdown rules, had played a part.
A suggestion by Manchester's regional mayor Andy Burnham that fireworks could be banned as part of a deal with Government to remain under Tier 2 controls sparked the surge, Mr Raper said.
However, residents and the fire service are not happy with fireworks displays taking place at home.
Not everyone is happy with fireworks
These included nearly 80 fires, over 100 false alarms and over 40 non-fire incidents needing help.
The busiest stations for callouts were Worcester, as well as Wyre Forest, Hereford, Bromsgrove and Redditch.
Some fun facts about Bonfire Night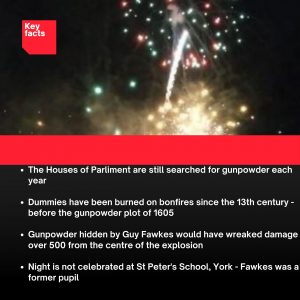 Residents in Malvern  in the county complained of fireworks being let off before Bonfire Night causing great distress.
Residents on the Spotted Malvern community Facebook page have complained of fireworks being let off mid-week near to Summerfield Road as well as other areas near to Great Malvern.
Liz Purnell: "I'm guessing people are doing it now as next weekend will be in lockdown.
"It's driving my dogs nuts – my fault I didn't realise I was out of plug in soother. Apologies to our neighbours.
Roy Burgess said: "Wish people would [not let off] fireworks in October – the dogs just knocked the Christmas tree over."
Malvern mayor, cllr Neil Morton has spoken out on the "irresponsible action of a few" and said he sympathises with residents.
Mr Morton said: "As a dog owner myself, I can understand the issue of people letting off fireworks not at the appropriate times – it does upset people and animals.
"Personally, I think fireworks should be banned for domestic use and only be used at organised events."
Images taken by our photographer on the night at Sixways Stadium, Worcester, as hundreds watched the Covid-secure fireworks display
If you have any photographs of your fireworks display, then send them in at: lookatmywordscollins@gmail.com