Charities across the country are urging the government to tackle bed poverty, with an estimated 400,000 children in the UK living without a bed before the pandemic.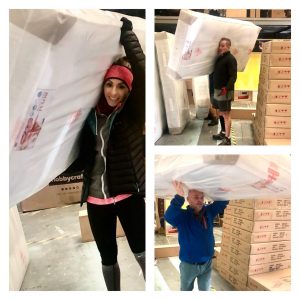 Official figures are yet to be released on the impact COVID-19 is set to have on bed poverty but bed charity Zarach has had 50 new referrals since the start of this year.
Bex Wilson, a teacher from Leeds, set up Zarach in 2017 after one of her pupils told her he slept on a cushion with his younger brother that was covered in bed bugs.
The charity is committed to ensuring there is a "bed for every head", having delivered over 600 beds to children in the Leeds area since its launch.
Tracey Parle, Corporate Relationships Manager for Zarach, said: "One of the most basic needs we have is to have somewhere safe and comfortable to sleep.
"Not having this basic need met often leads to an inability to concentrate at school, therefore the child is at an educational disadvantage."
Tracey added: "This disadvantage leads to longer term social inequality and so the cycle of poverty continues.
"We need a government who is prepared to take action to alleviate the main causes of poverty in the UK."
Claire Donovan, Campaign Manager for End Furniture Poverty, said: "We are very aware that furniture poverty is a subset of poverty as a whole, if people are struggling to buy food and fuel there's definitely no money for furniture.
"If you are struggling to make ends meet beds can be quite low down on the list."
End Furniture Poverty helps the estimated 9,000 children across Liverpool who do not have a bed of their own, to ensure poverty doesn't become part of the furniture.
Claire Donovan explained: "The lack of sleep for a child and sleeping somewhere inappropriate has a terrible toll on a child's physical and mental health.
"The side effects are more than just a bad night's sleep and for many children having friends round for a sleepover is a key part of childhood.
"Without a bed to call their own, many children are excluded from some of the most basic aspects of being a kid."
The charity was formed in 2015, and has since aimed to raise awareness across the country about what furniture poverty is and how devastating it can be. They also research solutions to end furniture poverty.
Claire Donovan said: "The only way we can end furniture poverty is by working together."
Buttle UK, a charity that provides grants and support to vulnerable children, is working to end furniture poverty through their Chances for Children grants.
In 2019 and 2020 the grants provided beds and bedding to 878 children across the UK.
The grants aim to improve the wellbeing of children and young people in poverty and ensure that children are living in homes that meet their basic needs.
Check out more of our work on poverty here.