Doncaster Mayor Ros Jones and her cabinet have approved plans for a new affordable and sustainable housing scheme.
The New Homes Delivery Plan outlines that over 500 new council homes will be built across Doncaster by 2025.
The five-year plan will provide affordable and sustainable housing for vulnerable people, including older people, families, and residents with special needs.
Residents will receive support and guidance on how to make their homes more energy-efficient, through better insulation and heating in line with the Government's Green Homes Grants scheme.
Government reports reveal that more than 10.8 percent of people in Doncaster are experiencing fuel poverty, whilst Yorkshire has just 10.1 percent.
What is fuel poverty?
 Fuel poverty is defined as a household not being able to afford to keep adequately warm at a reasonable cost based on their income.
Government reports show that approximately 2.4 million households are living in fuel poverty across the UK in 2018, with areas including Yorkshire, the Midwest, and London being the most affected.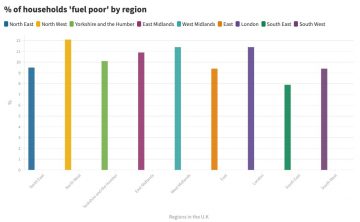 The new housing strategy will also look to reduce homelessness and rough sleeping in Doncaster, by bringing more empty houses into use and improving housing conditions to accommodate.
Councillor Glyn Jones, Deputy Mayor and Cabinet Member for Housing and Equalities, told Buzz: "We are committed to doing our bit to reduce fuel poverty and our new council homes will be carefully designed and include high energy efficiency features.
"Tackling homelessness remains an important objective and we will keep working with all of our partners and the private rented sector to stop as many people as possible from becoming homeless."
Between 2015 and 2020, the council built 925 new affordable homes which included £54million of council investment to provide over 400 new council homes.
MP for Doncaster Central, Rosie Winterton told Buzz: "Doncaster Council's ambitious Five-Year House Building Delivery Plan is fantastic news.
"Fuel poverty is also a major issue, this has become more prevalent as people work from home or who have been furloughed due to the Covid-19 pandemic and the significant increase in their home fuel."
Local charity, Doncaster Housing for Young People helps with homelessness prevention amongst 16-25-year-olds, with services ranging from tenancy support to supported lodgings.
Chief Executive Officer of the charity, Stuart Shore said: "We support all initiatives to increase the supply of affordable housing in a sustainable way and to reduce the fuel costs that people pay.
"It's also tremendous to see the leadership being shown by Doncaster Council in providing greener housing – an area that was once at the heart of the UK coal industry"
The Council is working with a range of partners and the private rented sector to implement the new strategy and plans a three-stage delivery over the next five years.
Are you a Doncaster resident that believes this will help tackle fuel poverty in your area?
Get in touch with us: